Port of San Diego Inks Two More Leases
Wednesday, May 12, 2021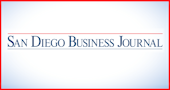 The Port of San Diego has reached 90% occupancy after inking two more leases.
Zytoun Gourmet Mediterranean and Old Harbor Distilling Company are the latest businesses to join the San Diego Bayfront Retail Center. With the two additions, it means 17 spaces are now filled since the Port began its revitalization project.
Zytoun, the owner of Aladdin Mediterranean Restaurant in San Diego, will operate a full-service Greek and Mediterranean restaurant along the boardwalk in the Carousel District of Seaport Village. Old Harbor Distilling Company will open its second San Diego location in Seaport Village's Lighthouse District. It will include a craft tasting room and a fast-casual seafood restaurant concept. The original Old Harbor opened in 2013 in the East Village.
"Our more than $2 million investment in enhancing and elevating the Seaport Village experience continues to pay off with the addition of Zytoun Gourmet Mediterranean and Old Harbor Distilling Company," said Michael Zucchet, chairman of the Port of San Diego Board of Port Commissioners. "Seaport Village is a San Diego hotspot. We hope everyone gets a chance to visit soon and keeps coming back."
Seaport Village, owned by the Port of San Diego and operated in partnership with Protea Property Management, has recently undergone a series of site enhancements. With Zytoun and Old Harbor, 63 of the approximately 71 spaces at Seaport Village are filled. Other now open or soon to open tenants include: XEWT Channel 12 Studio, Mike Hess Brewing, Mr. Moto Pizza, Spill the Beans, Influencer Boutique, Samburgers, Chris Harvey Studio, Tuk Tuk Eatery, Louisiana Charlie's and Malibu Farm.
Travel & Hospitality reporter Mariel Concepcion can be reached at mconcepcion@sdbj.com or 858-634-4625.