DUTCH AIRLINE TO PROVIDE SERVICE ON EUROPEAN ROUTES
KLM Switches on Wi-Fi From Viasat
Wednesday, May 5, 2021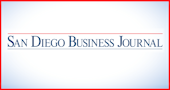 KLM Royal Dutch Airlines has begun offering in-flight Wi-Fi powered by Carlsbad-based Viasat on a limited basis, with plans to expand the service to more of its fleet. Viasat (Nasdaq: VSAT) announced the news on April 22.
KLM is currently offering it aboard two narrow-body Boeing Co. aircraft.
The Amsterdam-based airline plans to add Viasat's satellite-connected Wi-Fi service to 18 of its Boeing 737-800 aircraft, which seat a maximum of 186 passengers. Equipment will be installed by the end of the year and is expected to be in service by early 2022.
In addition, KLM plans to add Viasat satellite Wi-Fi equipment to 21 Embraer E195 aircraft, which can seat a maximum of 132 passengers. The airline did not give a timeline for putting the service on the Embraer aircraft.
Financial terms of the deal were not announced. The aircraft will operate on European flight routes.
"KLM came to us seeking an IFC [in flight connectivity] partner that could deliver new, affordable ways to engage and entertain passengers in-flight, with options that included streaming, scrolling and staying connected," said Don Buchman, Viasat's vice president and general manager, commercial aviation. "In understanding their needs, we delivered a high-value IFC service that can support rising data requirements and the latest internet trends — anytime and on any short hop European flight."
KLM will offer free and paid Wi-Fi on all Viasat-equipped aircraft through three in-flight connectivity packages. The Messaging option will give all passengers 30 minutes of free text messaging via WhatsApp, Facebook Messenger and WeChat, among other messaging apps.
ViaSat serves consumer, commercial, business, government and military clients, offering satellite communications equipment as well as services. It plans to launch three ViaSat-3 class satellites that will provide nearly worldwide coverage. The first launch is set for 2022.