EVENTS: SOCIAL ARTISTRY CREATES COMMUNITY AND CONNECTIONS EVEN DURING THE PANDEMIC
Building Bridges Through Culture
Tuesday, May 4, 2021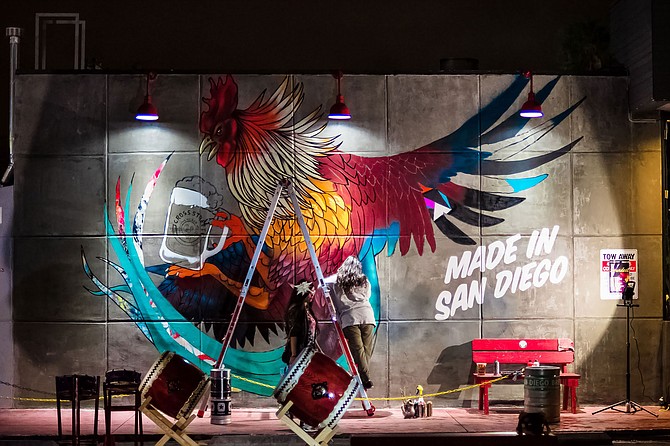 While the pandemic may have shuttered large gatherings and celebrations, it didn't stop Lauren Balcita Garces from starting her own event production company in 2020. 
  
In fact, as an experienced marketing professional and event planner, Garces thought what better time to launch her company Social Artistry, a business focused on empowering diverse communities through events. 
 
"You know what better time to really show to the community like these are the types of events, these are the types of programming, this is the type of way I want to serve in our community," Garces said. "I really wanted to lean into...what I felt my purpose was with my company, which was to serve our diverse communities, give them more access to opportunities and get more resources." 
 
Over the past year, Social Artistry adapted to serve San Diego's multicultural and hardest hit communities through project collaborations with the city, county, local ethnic chambers of commerce and more than 30 community-based organizations across the San Diego region. 
 
Connecting Communities 

Growing up in Kapolei, Hawaii on the big island of Oahu, Garces said she didn't dream of being an event producer. However, she did dream of owning her own company. 
 
She came to San Diego State University to pursue a degree in marketing because she said it seemed like the most creative path in business and it allowed her to use both her creative and strategic mindset. To stave off homesickness and find community, she got involved in clubs such as the Asian Pacific Student Alliance and the American Marketing Association. 
 
Garces found event production through her first internship at Silk Road Productions, and eventually rose to become a vice president at the company. Then in May of last year, she felt that it was finally time to live her childhood dream of owning a business. 
 
The name "social artistry" reflects her company's vision of "creating sustainable economic and cultural impact with community leaders and organizations through creative events." 
 
Working Together 

For Garces, making that vision a reality means using her business to bring attention to the Asian and Pacific Islander communities and key decision-makers so they can work together toward equity. 
 
"A really big thing for me is like, I see a lot of the groups that I work with a lot of the people that I work with are different like puzzle pieces," Garces said. "Everyone has their own talents and skills and things that they're amazing at, but the way that we actually make like...a beautiful picture together is by connecting more and more of those pieces." 
 
Garces is also well connected in the San Diego community as president of the National Association of Asian American Professionals - San Diego and with the San Diego Asian Pacific Islander (API) Coalition she's helped reach out in solidarity and to support Asian and Pacific Islander-owned small businesses experiencing not only financial challenges but discrimination due to the pandemic. 
 
"It's important that we support them because you know ... discriminating against our hard-working Asian and Pacific Islander business owners, is a misguided way to put your emotions," Garces said.  
 
In addition to the challenges posed by the coronavirus pandemic, Garces explained that getting access to federal aid or local grants can be harder for small businesses in the Asian community due to the extra time needed to address language and digital barriers.  
Going forward, Garces said one of the best ways key decision-makers can help the Asian and Pacific Islander communities overcome these additional challenges is by setting aside designated grant money and relief for these small businesses.