Accel Robotics to Launch First Valet Market
Originally published May 4, 2021 at noon, updated June 11, 2021 at 9:41 a.m.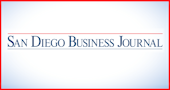 Accel Robotics, the San Diego-based cashier-less retail solution company, will soon open its first automated shopping experience. 
Valet Market is an autonomous market offering 1,500 square feet of retail space within Vantage Pointe, a luxury high-rise community in East Village. At the neighborhood pantry, shoppers will find locally-sourced items like produce, baked goods and dairy alongside everyday convenience items. Valet Market also offers Last Step, an integrated, proprietary delivery service for residents who can order goods through the store's mobile app for on-demand delivery straight to their door.
"Valet Market signals a new ear in modern convenience that offers community residents 24.7 access to autonomous shopping while serving as a distribution hub for the larger community," said Brandon Maseda, CEO and co-founder of Accel Robotics. "We're enabling a grab-and-go store of the future for a fast, hyper-local shopping experience, all while setting a new standard of service with our Last Step delivery offering."
To shop at Valet Market, users need to download the app, shop and walk out without having to wait in line. Advanced technologies including computer vision, shelf-level sensors and artificial intelligence automatically track products as shoppers remove items from the shelves. A receipt is delivered to shoppers upon exiting the store.
In the near future, Accel Robotics will be announcing partnerships with other U.S. brands and entities, according to the company, including universities, sports venues, military bases, convenience stores, pharmacies and fuel stations.
Travel & Hospitality reporter Mariel Concepcion can be reached at mconcepcion@sdbj.com or 858-634-4625.