Food Business Operators Turn to Membership Programs
Wednesday, March 24, 2021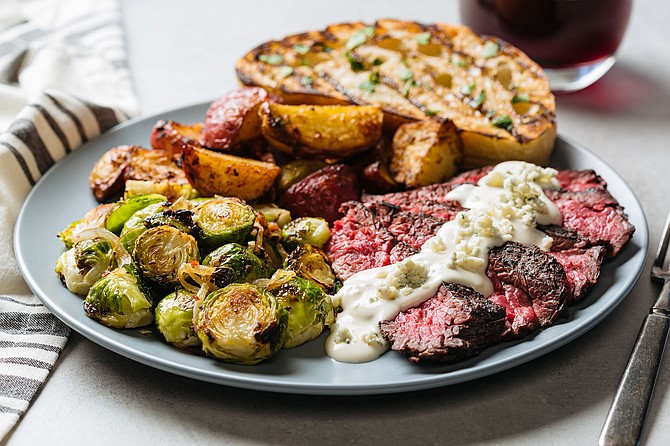 National restaurant chains, like Panera Bread, are offsetting some COVID-19 related restrictions, including limited capacity and no indoor dining, by adopting subscription models. Now, two San Diego-based companies, Urban Plates and Trust Restaurant Group, are crediting the method with helping keep their companies afloat during the pandemic.
Ox Box
Brad Wise, chef and owner of Trust Restaurant Group, said it was his The Wise Ox Butcher & Eatery "Ox Box" monthly subscription program, launched in October, that helped the hospitality company reach $5 million in revenue last year. Trust Restaurant Group currently owns and operates four eateries, one ice cream shop and the butcher shop, all in San Diego County.
"The butcher shop has been the biggest surprise of my career," said Wise, who acquired the business, previously known as Heart & Trotter Butchery, last August. "It was the last investment I was going to make during the pandemic, but it ended up being one of the best things I could've ever done. In fact, I paid the initial investment back in profits plus 25% in the first 2.5 months open."
For $125/month, members of the "Ox Box" get eight to 10 items, including 10.5 to 12 pounds of ground beef and sausage and a whole organic chicken. To further incentivize patrons who join, Trust Restaurant Group offers discounts and recipes, like a step-by-step on how to prepare a beef shank and 15% off to The Wise Ox's wine shop.
The initial expectation upon launching was to get at least 25 members per month, said Wise, but that number surpassed the 250 mark in December. These days, it hovers at almost 200, he said. As a result, Trust Restaurant Group is expected to reach $15 million in revenue this year, surpassing the $10 million it made in 2019, before COVID-19, and the $5 million it netted in 2020.
Plate Pass
Similarly, Urban Plates, with three restaurants in San Diego and over 20 locations total, has seen success with its own "Plate Pass" program.

The subscription plan originally launched as a pilot in December, according to the company. For a $20 fee, every entrée, with an average cost of $13 to $14 per plate, is $10 for two months.

Saad Nadhir, CEO of Urban Plates, says the membership package is a win-win for both the sustainable food chain and members, as it saves Plate Pass users approximately $49 each per month and ultimately helps increase the company's revenue.

"Plate Pass members dine more frequently (at Urban Plates locations), which makes sense given the fact that the average Plate Pass user saved approximately $49 each during the month of January, (for example)," he said. "These members saved almost five times the $10 they invested for a monthly subscription. The more someone uses Plate Pass, the more they save, and at $10 per entrée, there aren't other dining options that deliver the taste, quality and wholesomeness of Urban Plates."
Because of its popularity, "Plate Pass" has since been extended to run through March and April, said Nadhir.
Recurring Memberships
Recurring memberships are now seen as a key part of food businesses.

Panera Bread, headquartered in Missouri and with eight locations in San Diego, most notably started its "MyPanera+Coffee" program last March, right at the onset of the health crisis.

"Our hypothesis is that recurring revenue based on subscription makes a lot of sense," Eduardo Luz, chief brand and concept officer of Panera Bread, told Adweek last year. "I believe part of our future is going to involve recurring revenue or subscription-based revenue, which is new to the restaurant world. This is Panera's first attempt to go in that direction."
According to a July 2020 Forbes article, the benefits are tangible for restaurateurs.
"Instead of variations in already thin profit margins, these subscriptions allow for a company to streamline its menu, avoid wastage and get a guaranteed and dependable revenue upfront," the feature read. "In addition, this model also revives the important idea of brand loyalty or exclusivity as consumers continue to develop new dining habits based on months of working from home."