GA Aeronautical Systems to Design 'LongShot'
Thursday, March 18, 2021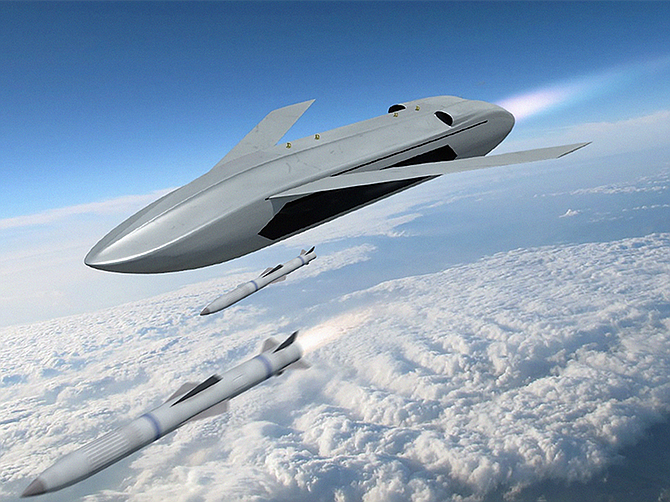 The Pentagon's R&D arm has awarded Poway's General Atomics Aeronautical Systems Inc. a $9 million contract for preliminary work on a new type of unmanned military aircraft called LongShot. The deal could grow to slightly less than $29 million if the Defense Department exercises options in the contract.
The Pentagon is looking for an unmanned aircraft that can be launched from a conventional, manned aircraft. Once launched, the unmanned aircraft could venture into hostile territory and launch air-to-air weapons. The manned aircraft would stay back, out of harm's way.
GA-ASI is one of three aerospace companies working on the LongShot program. Similar contracts have gone out to Northrop Grumman Corp. (NYSE: NOC) and Lockheed Martin Corp. (NYSE: LMT).
DARPA, the Defense Advanced Research Projects Agency, awarded the deal to GA-ASI on Feb. 12.
Disruptive Technology
"The LongShot program changes the paradigm of air combat operations by demonstrating an unmanned, air-launched vehicle capable of employing current and advanced air-to-air weapons," said U.S. Air Force Lt. Col. Paul Calhoun, program manager at DARPA. "LongShot will disrupt traditional incremental weapon improvements by providing an alternative means of generating combat capability."
Phase one of the deal with GA-ASI covers research and development into the LongShot concept as well as demonstration of the technology. It will run until February of next year.
Some 71% of the work on the General Atomics contract will be performed in Poway. Other portions of the work will be performed in Orlando, Florida; Buffalo, New York; Kirkland, Washington; and Pontiac, Michigan.
"Current air superiority concepts rely on advanced manned fighter aircraft to provide a penetrating counter air capability to effectively deliver weapons," DARPA said in a statement. "It is envisioned that LongShot will increase the survivability of manned platforms by allowing them to be at standoff ranges far away from enemy threats, while an air-launched LongShot UAV [unmanned aerial vehicle] efficiently closes the gap to take more effective missile shots."
According to DARPA, in later phases of the program, the contractor will construct and fly a full-scale air-launched demonstration system capable of controlled flight, before, during, and after weapon ejection under operational conditions.
Past Successes
All three contractors have had successes in the unmanned aircraft field.
General Atomics Aeronautical builds the propeller-powered Predator family of aircraft, which has surpassed 6 million flight hours. The U.S. Air Force, U.S. Army and U.S. Marine Corps as well as several European allies fly aircraft descended from the original Predator.
In addition, GA-ASI has developed Avenger, a jet-powered UAV, which has achieved 30,000 flight hours. Avengers are supporting a separate U.S. Air Force program called Skyborg, which teams autonomous systems with human-crewed aircraft.
Northrop Grumman, for its part, built the X-47B unmanned aircraft that successfully operated from the deck of an aircraft carrier. It also builds the autonomous Global Hawk and Triton aircraft as well as the Fire Scout autonomous helicopter. Those programs are all based in San Diego. Northrop Grumman's work on its LongShot aircraft will be based in other cities.
Lockheed Martin has built stealthy, unmanned aircraft such as the RQ-170 Sentinel. Its Skunk Works is famous for aviation breakthroughs.
General Atomics Aeronautical is an affiliate of General Atomics, with headquarters on Torrey Pines Mesa near UC San Diego. The companies are privately held. Neither discloses its revenue.
Published estimates of revenue vary greatly. Dun & Bradstreet gives General Atomics Aeronautical's revenue as $1.7 billion, and General Atomics' revenue as $1.24 billion. Washington Technology estimates the revenue of General Atomics as $822 million, citing the Federal Procurement Data System as its source. The publication gives no estimate for General Atomics Aeronautical.