OSML and University Face Cyber Challenge
Wednesday, March 17, 2021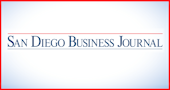 When the Department of Defense has an engineering problem, it will occasionally solve it in a very public way — by organizing a contest.
A team led by Dan Hendricks, a retired U.S. Navy captain who now runs a research and development workshop in Vista, recently won $15,000 for solving a cybersecurity challenge for vehicles.
It is the second time that Hendricks, president of Open Source Maker Labs, has led a team to win such a hackathon organized by the National Security Innovation Network, or NSIN.
The latest hackathon, dubbed "Mad Hacks: Fury Code" ran Feb. 5-26. More than 500 people representing 21 teams participated in the virtual event. The point was to solve a real-world problem for the military: develop technologies or systems to help human-controlled or autonomous vehicles operate through cyberattacks and forms of electronic warfare.
In a 2020 study, Grand View Research estimated that the North American market for autonomous vehicles, both military and nonmilitary, will experience a 63.1% compound annual growth rate from 6,700 units in 2020 to 4.2 million units in 2030. Though the report has not been adjusted for the effects of COVID-19 on the economy and markets, growth is expected to be sizable.
The North County team came up with Syn6. It describes its solution as an encrypted, compartmentalized and intelligent three-tier cybersecurity architecture that maintains operational resilience for human-controlled and autonomous vehicles.
In short, Hendricks said, the software lets the system "fail gracefully" and lets the operator maintain control of the vehicle. It has applications in the military, commercial and industrial worlds, he added.
The team will continue with their work and hopefully form a startup, Hendricks said.
In addition to Hendricks, the team consists of current and former students from California State University San Marcos as well as an assistant professor of management, Samuel Clarke. The students involved in the project are Jael Acuna, an electrical engineering major; Briana Cordova, who is studying business management; and Lemuel Johnson, a student of applied physics. Rounding out the team is Chris Morales, a 2020 graduate in entrepreneurial management who founded an online menswear retailer.
In 2019, a team led by Hendricks took home prize money in a contest called "Off the Grid." The NSIN hackathon helped U.S. Army Special Forces develop new capabilities for edge computing. The development process included meetings with Navy SEALs and Green Berets (who were introduced by their first names only) to better learn about real world challenges.