CFO of the Year Awards Will Offer a Backstage Look at a Momentous Year
Monday, March 15, 2021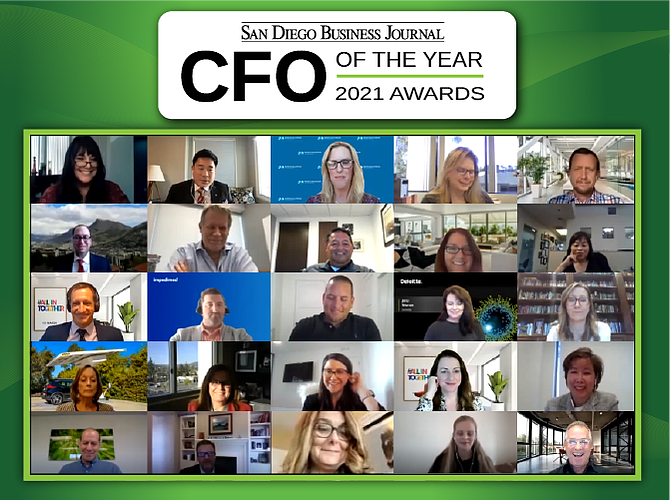 A company's top executive can't execute if no one is taking care of the books.
Everyone needs a CFO to keep the business in order. It's a must during normal economic times. It's even more urgent when events such as COVID-19 make waves within the economy.
The San Diego Business Journal will soon honor financial professionals with its CFO of the Year Awards. The 2021 event is virtual. It will be streamed over the internet from 2 to 3:30 p.m. on Thursday, March 25.
Thanks to event sponsors, viewers can attend for no charge. Pre-registration is required. To register, visit www.sdbj.com/2021_CFO_Awards/
Hugh Leslie, principal and life science and technology practice lead at Marsh & McLennan Agency, will moderate the afternoon event.
Lifetime Achievement Honors
A Lifetime Achievement Award will go to Jay Rembolt, vice president, finance, treasurer and chief financial officer of WD-40 Co. (Nasdaq: WDFC). The maker of the all-purpose lubricant and related products had $408.5 million in revenue in 2020, and saw sales tick up as more people stayed home.
The ceremony will also recognize top CFOs in the categories of Public Company, Privately Held Company, Nonprofit and Business Nonprofit. The Most Innovative Finance Team will be honored. A Public Service Award will go to a CFO in the government/education/municipal sector. And a Rising Star will be named. Finalists for these awards are pictured on the following pages.
Awards will be determined by a panel of judges who evaluate applications based on a point system. The judges are Michele Comtois, principal, executive liability practice with Marsh & McLennan Agency; David Crean, Ph.D., president of ACG San Diego; Haney Hong, president and CEO of the San Diego County Taxpayers Association; Karen Jordan, president of Financial Executives International, San Diego Chapter; Joe Kight, director, mid corporate banking, Union Bank; and Juli Moran, San Diego Marketplace Leader and managing director, Deloitte Consulting LLP.
The presenting sponsor is Marsh & McLennan Agency.
Diamond sponsors are Deloitte, FEI and Union Bank. The event's Gold Sponsor is the ACG San Diego (the Association for Corporate Growth). Event partners are Snake Oil Cocktail Co. and EventAVision.
Pitch Event Preceded Awards
The March 25 event was preceded by a private Zoom reception on Feb. 23. There, each CFO finalist had two minutes to make a pitch before the judges.
David Dallal of cannabis retailer Torrey Holistics said his organization had to deal with being part of a new industry, with new laws and ever-changing regulations. San Diego's cannabis industry had $200 million in sales in 2020. Complicating matters, Dallal said, was that his business had no access to banking or credit cards. "We were constantly learning as we go and we had to overcome many challenges."
James Masias of Optima Office said he had his mother and father to thank for any accolades from being a finalist. His family ran a small restaurant business in Southeast Colorado, and at 10 years old he was in charge of bank deposits.
Masias, like so many others, recounted how his business and its clients had to pivot with the coming of COVID-19. Judges heard story after story about changing plans.
"2020 was a whopper and it's still ongoing," said Kight of Union Bank, in remarks to the finalists. "So I know your already difficult job was made even tougher in 2020. My hat's off to all of you for your nominations."
Paycheck Protection and PPE
Not only was there an economic downturn. The federal effort to keep people employed also left CFOs and their bankers straining to keep up with initiatives like the Paycheck Protection Program (PPP), which offered forgivable loans from the U.S. Small Business Administration.
"I remember when the PPP launch came out, getting calls and saying 'What does this mean? What are you hearing from other clients?' said Leslie of Marsh & McLennan.
Jessica Groat of the Bill Howe Family of Companies recalled ending her maternity leave and abruptly having to step into the role of CFO. She dealt with PPP as well as PPE — that is, personal protective equipment for the company's 120 field service staff. "I reallocated portions of our marketing budget to PPE purchasing. … It was very hard to find biohazard suits, masks for them to go into people's homes, and prices were skyrocketing for these things."
CFOs had to find other creative ways to meet needs among their staffs. Finalist Ryan Gray of Ascent Funding told how his firm created a Community Fund for employees who were looking for help during the pandemic, whether in the form of mental wellness, childcare or tutoring services. "Employees were allocated funds, no questions asked," Gray said. "What was great about this program was 75% of the employees opted out …, which increased the fund size to benefit the 25% of the employees who actually had some of that need."
It was quite a year.
"In addition to running your own companies, you have all been cornerstones for the community in really reaching out to make sure that we're keeping the local economy going and as many people employed as possible," Leslie told the event finalists. "So thank you for tirelessly working nights and weekends — and endless, endless Zooms — and doing all the contributions you are doing in the community here."
To register for the CFO of the Year 2021 Awards, visit www.sdbj.com/2021_CFO_Awards/
For further information, call (858) 277-6359.