New Agreement Extends Naming Rights
Sunday, March 14, 2021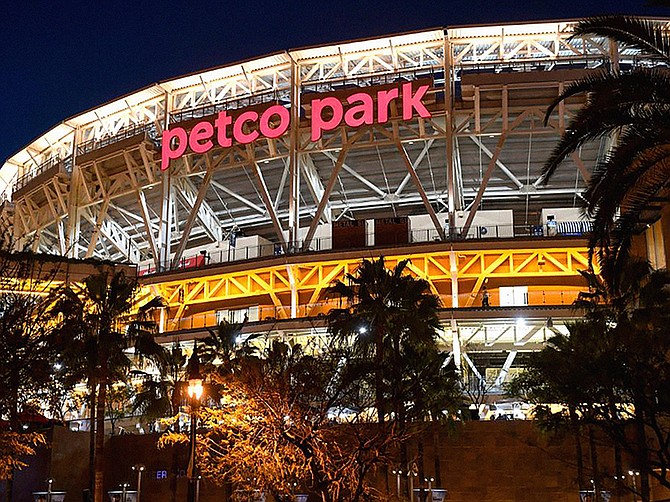 Petco Park will keep its name until at least 2027, according to an extended agreement between Petco Health and Wellness Company, Inc., and the San Diego Padres.
The two San Diego-based corporations agreed to lengthen the naming rights for Petco Park for two more years, through the 2027 Major League Baseball season. Petco Park has been named as such since it opened in 2004.
Under the new agreement, Petco Health and Wellness Co. will continue to be featured throughout the ballpark, creating innovative activations and promotions during each season. Additionally, as part of the strategic partnership, Petco and the San Diego Padres will also work together to help improve the well-being of team pet parents as well as their furry friends.
This includes working closely with the likes of Padres' Manny Machado and Fernando Tatis Jr. on social media campaigns and customized digital content focused on health and wellness.
Shared Commitment
"The Padres and Petco are both teams with positive momentum, competing at the highest level and with great players putting up great numbers," said Ron Coughlin, Petco chairman and CEO. "And with our shared commitment to the city of San Diego, this extension generates great value for both Petco and our community. We are excited to continue working closely with the Padres and in partnership with world-class athletes and pet parents like Manny Machado and Fernando Tatis Jr. to improve the lives of pets, pet parents and our more than 2,600 partners."
Added Erik Greupner, Padres CEO: "We are grateful for our long-standing relationship with Petco and are delighted to extend the length of our partnership at a key inflection point of growth for both organizations. Throughout the years, the Padres and Petco have collaborated on industry-leading initiatives that showcase our collective focus on innovation and family-friendly entertainment, including fun for the four-legged members of our families. As a locally based company, we are proud to have the Petco name on the number one ballpark in America and home of the San Diego Padres."
Petco Park was recognized as the best ballpark in America according to USA Today's 2020 ranking and has hosted more than just baseball games, including concerts, tennis and soccer events, Monster Jam and other Supercross matches. Founded in 1965 in La Mesa, Petco employs more than 2,200 people in San Diego and has evolved from a pet specialty retailer to a health and wellness partner for pets and pet parents in recent years.
Stadiums to Open Soon
San Diegans also might be able to catch a live ballgame at Petco Park soon.
According to a March 5 announcement by Gov. Gavin Newsom, theme parks and stadiums could possibly open at limited capacity as early as April 1. This is contingent on San Diego County qualifying for the red tier by the end of the month.
In a statement, the San Diego Padres, scheduled to play against the Arizona Diamondbacks for the first regular season baseball game of 2021 on April 1, said it hopes to have fans in stadium seats on Opening Day.
"We are excited to hear (the) announcement, which creates a path to welcome our loyal and passionate fans back home to Petco Park for the 2021 season," Greupner said. "We have been diligently preparing to ensure that Petco Park is one of the safest places to be in San Diego this season. We expect that Padres fans will be able to support our team in-person beginning on Opening Day and our players are eager to have them back at Petco Park… San Diego and our country have been through a very difficult period and we are proud that once again the great game of baseball can serve as a unifying and healing force in our community."
Contactless Payment
On this front, the San Diego Padres announced just last week a multi-year partnership with Tappit, the payment and data ecosystem, to go cashless.
Tappit, headquartered in England, will provide its white label mobile payment technology through the MLB Ballpark app which links to fans' "Padres Pay" loyalty accounts, allowing them to make contactless purchases using their cellphones. The partnership will help ensure a safe return when Padres fans are allowed back into the stadium, according to a statement by the organization.
"As we prepare for the 2021 baseball season, our priority is the health and safety of our fans and employees," said Greupner. "We believe that through Padres Pay, we're one step closer to safely welcoming Padres fans back home to Petco Park while minimizing person-to-person contact."
Tappit will begin integrating its technology into the Padres' mobile app in advance of the 2021 baseball season.