Cos. Poised for Strong Recovery
Sunday, March 14, 2021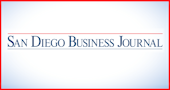 Despite the economic disruption and uncertainty caused by the COVID-19 pandemic, North County manufacturing businesses are expected to bounce back quickly.
A surprisingly large number have prospered during the pandemic.
Those were among the findings of a report that the San Diego Regional Economic Development Corp. produced for Innovate78, a coalition of government and business leaders from Carlsbad, Escondido, Oceanside, San Marcos and Vista.
"This study confirms the manufacturing industry in North County is poised for a strong recovery and will remain a significant economic driver in the region," said Jordan Latchford, research manager of the Economic Development Corp. and author of the study.
"What we found was that (North County) manufacturing is concentrated in high-value goods. Those have proven resilient during the pandemic," Latchford said. "Most of the firms that we surveyed – 67% - said they expect manufacturing growing in the future."
Not only were most business leaders optimistic about what lies ahead for the region's economy, but more than half of those surveyed – 58% - said they're planning to increase the amount of space they either lease or own.
The study also found that North County has room to accommodate expansion, with nearly 630,000 square feet of industrial space available.
A Growing Company
Among those looking to expand is Flux Power, a Vista company that makes lithium ion batteries for industrial and commercial equipment.
Flux Power increased their staffing and revenue in 2020 and expects to grow further in 2021, said CFO Chuck Scheiwe.
Scheiwe said revenue for the second quarter of 2021 alone was a record $6.5 million with no sign of slowing.
In 2020, the company went from a staff of 85 to 110 and will be adding production workers in 2021.
Scheiwe said he was surprised to learn from the survey that North County manufacturing businesses were doing so well.
"I figured we were doing OK but I thought a lot of other people were struggling," Scheiwe said. "I was actually shocked that it was as good as it is."
Talent Pool
Manufacturing that covers everything from craft beer and golf clubs to medical and telecommunications accounts for more than $18 billion to the North County economy and more than 40,000 jobs.
It is the largest private industry sector in North County, accounting for 12% of the area's jobs, according to the survey.
Computer and electronics production is the biggest single sector of manufacturing, providing 12,746 jobs in North County, followed by architecture and engineering, management and office and administration.
Rosie Medina, vice president of sales for Quik-Pak, a computer and electronics packaging company based in Escondido, said that like Flux Power, her company increased hiring and revenue in 2020 and expects to grow further.
"The strength of the manufacturing industry in North County San Diego is one of the reasons we wanted to expand here," Medina said. "The talent pool is rich, and there is space to grow. We appreciate that not every region has both of these critical components that are needed for our industry to survive."
Job Gains Outpace Losses
There's no question that the pandemic has hurt manufacturing businesses in North County, as it has with many industries. Among the companies surveyed, 43% said they lost revenue in 2020.
Even so, manufacturing companies gained more than they lost when it comes to employment in the region, with the number of jobs rising by 1% despite the pandemic.
Companies reported losing 186 manufacturing jobs but gaining 956.
Most of the job losses were in medical manufacturing and most of the jobs added were in machinery manufacturing.
North County manufacturing businesses also fared better than the county overall when it comes to employment, with a 9% job loss compared to 15% countywide, according to the EDC.
Despite the overall optimism reflected in the survey, there was a note of caution.
There are nearly 10,000 North County manufacturing jobs that face "a higher-than-average risk of automation," according the study, suggesting that the region has to focus attention on retraining and training programs.
Investing
Scheiwe of Flux Power said a side benefit of the pandemic that could benefit businesses in North County and throughout San Diego County is that investors that have been sitting on money are looking for places to invest.
In the past, San Diego has been on the short end of having access to capital as lending institutions wanted face-to-face meetings but that's changing as people adapted to working virtually through Zoom and other applications.
"There's a lot of money out there to go to local companies and it's a lot cheaper to get," Scheiwe said. "It could be this whole process has taught us a new way to get access to the capital these companies need."
To read the report, click here.