After Almost a Year, Flower Fields Reopen to the Public
Wednesday, March 10, 2021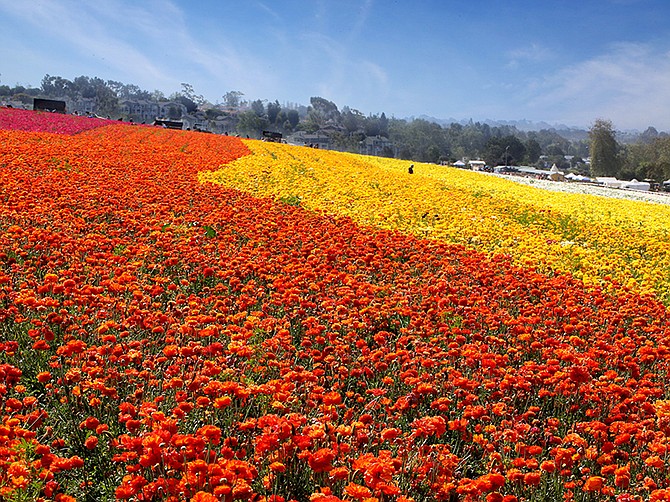 After nearly a year closed to the public due to COVID-19, The Flower Fields at Carlsbad Ranch, the commercial flower fields and tourist attraction, is finally back open for its agritourism business.
Expected to run for the usual 10 weeks, the Flower Fields reopened its doors on March 1, according to Fred Clarke, general manager. If things go as planned and there are no other mandated closures as a result of the pandemic in the near future, it will remain opened until May 9, he said.
The Flower Fields is only expecting to host up to half of its typical 200,000 to 250,000 annual visitors this year due to limited capacity and social distancing protocols, Clarke said. To monitor ticket sales, it is requiring guests purchase tickets in advance on The Flower Fields website via a timed ticketing entry system, he said, adding that it won't sell tickets at the door this year in order to avoid crowding and maintain safety.
As of press time, it has already sold 6,000 tickets via pre-season sales alone, said Clarke.
"It's optimistic," he said. "The Flower Fields is such a beautiful place. We have the flowers planted in the field and they are as colorful as you can imagine. We have lots of acreage, tons of room for people to walk around and enjoy the day outside, under the sun and have a good time."
New Attraction
In addition to the 50 acres of Giant Tecolote Ranunculus flowers, The Flower Fields launched a new attraction this year in hopes of further enticing patrons: the U-Pick Blueberry Patch.
Originally meant to open last spring, The Flower Fields planted bushes of full sun blueberry varietals during the previous winter months with the intention of offering visitors the blueberry picking option. But, because of the coronavirus crisis, that didn't happen as planned, said Clarke.
Instead, the blueberries were donated to ProduceGood, a San Diego-based organization, or were sold along with some cut flowers at a farm stand that sits at the south-end corner of the Carlsbad Premium Outlets, among other uses. Despite shutting down last year on March 17, just two weeks after opening to the public, The Flower Fields' cut flower business was roughly 50% of typical annual sales, added Clarke.
Now, The Flower Fields is ready to offer blueberry picking as one of its COVID-19-friendly attractions, said Clarke. The new two-acres U-Pick Blueberry Patch can be experienced as part of the Flower Fields visit or as a stand-alone experience that can be accessed from The Flower Fields' new parking area off Cannon Road. The cost can be included in the $20/adult ($10/child and $18/senior) ticket, plus a small service fee, minus the purchase of a basket per person to put the picked blueberries in, he said.
Elsewhere, guests can expect one food truck offering by locally based Dang Brother Pizza, as well as strawberry, popcorn, lemonade and ice cream stands, said Clarke. Other features like the tractor ride and the sluice mine won't be open to the public yet, he said, adding that The Flower Fields won't be hosting private events any time soon, as it anticipated it would upon reopening.
Promotions
To help promote the Flower Fields, nearby hotels like the Sheraton Carlsbad and The Cassara Carlsbad have launched promotional packages focused on the destination. Sheraton's "Pedal to the Petals" package offers a one-hour bike rental per day, to encourage the scenic 1.5 miles ride to the Flower Fields, said Julie Zahner, corporate director of area sales.
"We recognize that people are looking for an experiential destination," said, Zahner, "allowing them to be outside exploring and enjoying the Southern California climate and coastal breezes that Carlsbad is known for."
Charity Deschaine, corporate director revenue and marketing at Cassara, said its program, dubbed the "Stay, Smell and Smile" package, includes two tickets to the Flower Fields and complimentary shuttle.
"Seasonal blooms start in March and run into May," added Deschaine. "For the nine weeks we anticipate that it will be a busy time with guests seeking an outdoor sensory experience."
Safety First
Safety remains a top priority, said Clarke.
To keep its staff and guests safe, he said The Flower Fields is requiring everyone stay six feet apart, encouraged by the use of partitions, signage and cues where possible. Staff and guests have to wear face coverings, he said, and there are hand sanitizing stations throughout the space. The Flower Fields has also doubled its cleaning staff, said Clarke, to help sanitize bathrooms and other high touch areas more frequently and between uses.