A 'City Within a City'
Sunday, March 7, 2021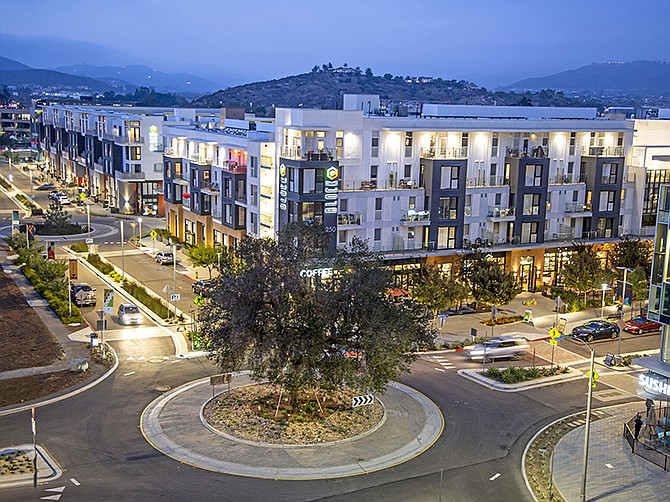 North City, a $2 billion city within a city adjacent to California State University San Macos, is rapidly moving ahead with work beginning or about to start on several projects including construction of more than 600 homes, student housing, market rate apartments and retail space.
"It's happening, it's really happening," said Gary Levitt, principal of Sea Breeze Properties, the developer of the North City that brackets Twin Oaks Valley Road.
City officials see North City becoming the downtown that San Marcos has always lacked, said Economic Development Director Tess Sangster.
"There really hasn't been an area where everyone gathers," Sangster said. "No one had the secret answer to the question of how you create a downtown from nothing."
While other cities have had a historic center that was their downtown, San Marcos doesn't have that and is having to create an urban center from the ground up, Sangster said.
"Over the course of the last decade we've worked closely with the North City developers about designing a specific plan that will really be our downtown for San Marcos," Sangster said. "The density that's being built in North City is really going to be critical for creating the downtown buzz when their project's complete."
Coming Together
The COVID-19 pandemic was a bump in the timetable but it is a challenge that's fading, Levitt said.
"We feel in the long term, we'll all get through this and we are focused on the long term," Levitt said. "We really are creating an urban core. We feel like the bones of this are coming together."
Sea Breeze is slated to break ground next month on a $46 million student housing complex across from CSU San Marcos and grading has started on 100 acres of land west of Twin Oaks Valley Road for more than 600 single-family homes that the company is building in partnership with Shea Homes and Lennar.
Construction of the first homes is slated to start in early 2022 with the first sales expected at the end of 2022, Levitt said, adding that the homes will be priced at more than $500,000.
A 20-acre activity and adventure park also is planned for North City West Side.
Sea Breeze also plans to break ground in early 2021 on a 420-unit apartment complex on the east side of Twin Valley Oaks Road with ground floor retail.
The apartment project is still going through permitting.
People Space
Finished last year on the east side, the 28,000 square-foot Mesa Rim Climbing Center is set to open as soon as COVID-19 restrictions allow.
Built on a rise at the east end of North City overlooking much of the project on the east side of Two Oaks Valley Road, Mesa Rim has large roll-up doors.
The center has a 60-foot tall indoor climbing wall, a yoga studio and exercise space.
Sea Breeze has created a small park next to Mesa Rim Climbing with large boulders meant for people to climb on.
"It's a wonderful people space," Levitt said.
A new restaurant, Buona Forchetta, is scheduled to open during the second quarter of 2022, timed to coincide with the reopening of the existing Copa Vida coffee shop, Levitt said.
Sea Breeze also is expanding its coworking space – Union Cowork - where Wynn's Ice Cream shop has opened.
Still in the design phases is 1 million square feet of office space that Levitt hopes to fill with high-tech and life science companies.
"You can imagine the opportunity, the partnerships that we can create with the university," Levitt said. "That's the vision."
The office project is still in conceptual design, and Levitt said he won't start construction until he attracts an anchor tenant.
Ultimately, Levitt is hoping that North City and environs will become a life science cluster on the UTC model with its ties to the University of California San Diego.
"If you think about it, we have all of the attributes UTC has," Levitt said. "We've got a university, we've got a hospital - Kaiser just broke ground on a $403 million project."
Kaiser Permanente in December started construction of a new hospital at 400 Craven Road near North City and CSU San Marcos.
"We've got rail, we've got a freeway. The surrounding neighborhoods are very similar to what UTC has," Levitt said.
A Place for the Community
Among portions of North City previously completed were a 170-unit student housing building with ground floor retail space, a 197-unit apartment building, a 60,000 square-foot office building and the 21,000 square-foot Urge Gastropub & Common House.
Because of its connections to CSU San Marcos and location next to the campus, Levitt said North City has been wrongly perceived by some as an extension of the university.
"We were always fighting pre-COVID the impression that we were building a place for students. We are not. We're building a place for the community," Levitt said. "People want to live in places like this."
In addition to North City, Sea Breeze Properties is developing Merge 56, a mixed-use project in Rancho Penasquitos/Torrey Highlands.