Area Expected to Be Top Summer Destination
Sunday, March 7, 2021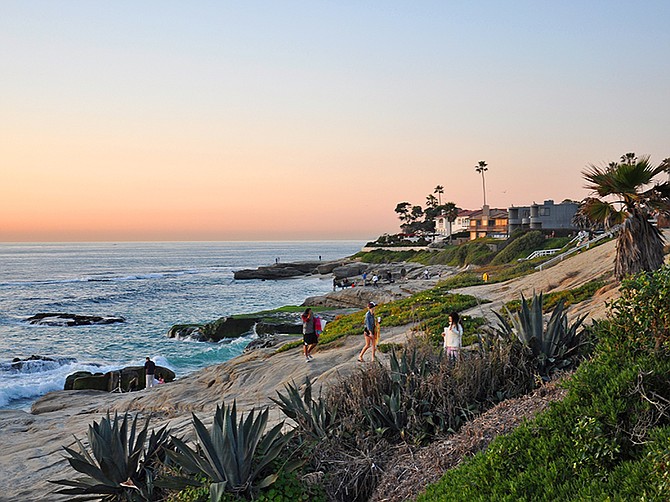 The roll-out of the COVID-19 vaccine and pent-up demand for travel is expected to significantly boost tourism this year.
According to experts, San Diego, with its warm weather and numerous tourist attractions, is anticipated to be a top summer destination as a result.
"San Diego has long been a top leisure destination and has always been able to weather downturns like 9/11 and the Great Recession when compared to other markets," said Julie Coker, president and CEO of the San Diego Tourism Authority. "With outdoor options now so in demand, our destination is a draw for leisure travelers and is poised to perform well again. Our natural attributes – near perfect weather, 70 miles of coastline, outdoor recreation, outdoor dining, our diversity and unique cultural offerings – all of these are appealing to would-be visitors who are looking to relax and be refreshed while connecting with loved ones. We are a diverse and welcoming destination therefore we are able to attract a diverse audience."
Marketing Campaigns
The San Diego Tourism Authority has certainly played a major role in positioning San Diego as a summer vacation hotspot this year.
From the start of the pandemic, the San Diego Tourism Authority has refocused its efforts on developing innovative marketing campaigns that encourage leisure travel as long as it has been lawfully safe to do so, said Coker. In July, it launched "Stay Diego", designed to convince San Diegans to staycation before they vacation and support local hotels, restaurants, shops and attractions.
The San Diego Tourism Authority has also restarted its "Happiness is Calling You Back" program, she said, which focuses on the drive markets in California and Arizona. And lastly, it is currently working with the San Diego Convention Center, elected officials and industry partners on advocacy efforts to convince the State to release safety guidelines as well as a timeline for relaunching meetings and conventions.
"This is a critical component of San Diego's tourism economy and we cannot hope to truly begin our recovery until we can hold meetings and conventions," said Coker, adding that many economists say it will be five years before the city gets back to 2019 levels of economic activity. "Currently, we are the only state that prohibits meetings of any size and that puts us at a competitive disadvantage now and into the future because planners need to make decisions about when and where to hold their events so far in advance."
People Eager to Travel
Hampton Brown, interim vice president of revenue generation & innovation at the San Diego County Regional Airport Authority, said San Diego has always been a strong leisure market, especially during the summer months. So, it makes sense, now that more travelers are ready to vacation again, that they'd tap a market already known for providing visitors a good time.
"In 2019, we saw 28% of our total traffic happen during June, July and August. Last year, despite COVID-19, we still saw an uptick in people traveling during those months," he said, adding that in June 2020, the San Diego International Airport saw an increase of 227,114 passengers compared to the month prior. "Of course, the numbers were significantly down year-over-year, but it shows that people are still eager to travel and want to go places that have an abundance of outdoor activities."
Airlines are also adding routes to places that are tailored toward a leisure traveler, Brown added.
Since March 2020, San Diego International Airport has been able to regain 19 routes that were temporarily suspended due to COVID-19, he said; airlines have added service to seven new destinations since then.
Safe Flying Plan
Like the San Diego Tourism Authority, the San Diego County Regional Airport Authority has also played a part in promoting travel to the city by marketing its safe flying plan.
In March, it launched its "Let's Go Safely" program, which included: health and safety modifications like increased cleaning of high touch points; electrostatic spraying; signage on preventive health measures; floor decals and seat separation signage; hand sanitizer stations; plexiglass sneeze guards in certain public spaces; and face masks requirements on all airport property.
Namara Mercer, executive director of the San Diego County Lodging Association, said she isn't surprised San Diego is poised to be a tourist trap during the warm season. The combination of people yearning to travel with the efforts the city has put forth has led to this perfect amalgamation, she said.
"People want to travel," Mercer said, "but I do think some are still worried about traveling to places that don't feel safe. It's been important for the Tourism Authority and others to market the city's safety plans to capture the outliers that are still worried about travel. As a result, for the leisure component, we will be fairly busy this summer. And, hotels will be rehiring some of their staff to meet the demand."