Cubic Supplies Aircraft Training Gear
Wednesday, March 3, 2021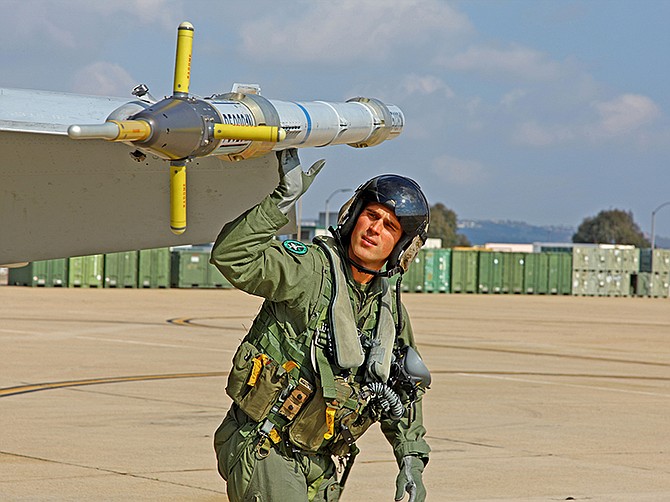 Cubic Corp. (NYSE:CUB) recently announced two contracts for its P5 Combat Training System. The P5 system helps pilots by recording data from training flights — including time, space and positioning information — for post mission analysis. The electronics also record simulated weapons engagements.
P5 electronics are typically housed in a pencil-shaped "pod" attached to the exterior of a fighter jet. There are also electronics at the ranges where pilots train.
One deal, announced on Feb. 22, will support the Combat Air Force Contracted Air Support program. The U.S. Air Force contracts private companies that specialize in supplying "red air" adversaries to help train U.S. military fighter pilots. Financial terms of the deal were not disclosed. Cubic and its principal subcontractor, Leonardo DRS, will continue to produce and maintain the P5 pods. The Leonardo DRS Airborne and Intelligence Systems business division is responsible for the design and production of the airborne P5 systems.
In a second deal, worth $32 million, Cubic will provide P5 electronics for F-35 Lightning II aircraft to the aircraft's prime contractor, Lockheed Martin Corp. The F-35 carries such gear internally. Under the contract, Cubic will deliver more than 150 training subsystems for Lockheed Martin's F-35 Air Combat Maneuvering Instrumentation system. The new order increases the total number of F-35 P5 on contract to more than 1,150 and ensures fielding of F-35 P5 out to 2025. Cubic announced the win on Feb. 18.
Earlier in February, Veritas Capital and Evergreen Coast Capital Corp. announced that they had agreed to buy Cubic for $2.8 billion. Evergreen is an affiliate of Elliott Investment Management L.P. The deal is expected to close in the second quarter.
Harper to Build at Camp Pendleton
The Department of the Navy awarded San Diego-based Harper Construction Co. Inc. a $42.7 million task order under a multiple award contract for the construction of a division operations complex at Marine Corps Base Camp Pendleton. Under the deal, Harper will design and build multiple structures with concrete masonry unit walls, reinforced concrete foundations and floors and standing seam metal roofs. The contract also calls for the construction of a parade field and the demolition of nine single story concrete buildings, nine temporary facilities and four multi-story wood buildings. Work is expected to be completed by May 2023. The Navy received 14 proposals for this task order. The Naval Facilities Engineering Systems Command Southwest in San Diego awarded the deal, announced on Feb. 18.
Harper Construction has its main office in the Little Italy neighborhood of downtown San Diego.
Kratos C5ISR Division to Supply Products
Kratos Defense & Security Solutions Inc. (Nasdaq: KTOS) announced on Feb. 19 that it received a product-related contract from an unspecified national security customer. The company did not specify the product. The indefinite delivery, indefinite quantity deal is worth a maximum of $55 million over approximately five years. C5ISR stands for Command, Control, Communications, Computers, Combat Systems, Intelligence, Surveillance and Reconnaissance. Kratos' C5ISR business provides C5ISR-related hardware, products, systems and solutions in support of unmanned drone, space and satellite communications, radar, missile defense, high power energy, strategic deterrence and other systems.
"Our entire organization is focused on supporting our national security customer's mission critical requirements, including in the unmanned aerial drone, strategic system and war fighter support areas, and we are proud to have received this recent contract award," said Tom Mills, president of the Kratos C5ISR Division.
Separately, Kratos announced on Dec. 30 that its C5ISR systems business received approximately $10.5 million in system and product orders from unspecified U.S. government customers.
Kratos is based in Scripps Ranch.
GA-ASI to Supply Reapers to Marines
The Department of the Navy announced that it has awarded an $11.2 million contract modification to General Atomics Aeronautical Systems Inc. of Poway. The modification exercises options to procure Group 5 Unmanned Air System Intelligence, Surveillance and Reconnaissance support for Task Force Southwest and Marine Corps operations using contractor-owned/contractor-operated MQ-9 Reaper unmanned aircraft. Most of the work will be performed in Yuma, Arizona and at locations outside the continental United States and is expected to be completed in May. The Naval Air Systems Command of Patuxent River, Maryland, awarded the contract, announced on Feb. 18.