Northrop Sees New Role for Fire Scout
Monday, March 1, 2021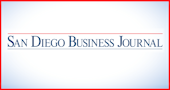 Northrop Grumman Corp. is coming up with new military uses for its unmanned U.S. Navy helicopter.
While the Navy uses the Fire Scout aircraft for surface warfare, Northrop Grumman has demonstrated how it might be used in the hunt for submarines. The company-funded demonstration took place in October in the ocean 20 miles off Carlsbad. The defense contractor went public with the results in February.
The Navy has not formally asked for such a capability but it has taken an interest in the tests, said company representative Dan Redman. He said the business wants to be ready if the Navy or a foreign ally says they want to use the technology.
"We still believe it's a valuable mission Fire Scout should be part of," said Redman, a Navy veteran with anti-submarine warfare experience. He is now Northrop Grumman's Fire Scout maritime mission expansion lead. Northrop Grumman houses many of its autonomous aircraft programs in Rancho Bernardo.
This spring the Navy will finish its acquisition of 38 of the larger model of Fire Scout, called MQ-8C, according to a Navy spokeswoman. Northrop Grumman also provides logistics and sustainment for the aircraft on an ongoing basis.
"Anti-submarine warfare is a team sport and it's tough," Redman said. The Navy uses manned aircraft for the job, and has put unmanned underwater vehicles and unmanned surface vehicles to the task.
Submarine hunting is perfectly suited for an unmanned system, said Redman. Conventional wisdom says unmanned systems are ideal for the 3 D's: the dull, the dirty and the dangerous. Fire Scout can fly missions as long as 12 hours.
Northrop uses a conventional Bell 407 helicopter as the starting point for building its unmanned MQ-8C Fire Scout.