PART OF CONTINUING COMMITMENT TO CYBERSECURITY INFORMATION
Join SDBJ & CCOE for July Cyber Threat Landscape Panel
Tuesday, June 29, 2021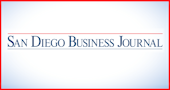 The CCOE is a San Diego nonprofit organization dedicated to accelerating the region's cyber economy and positioning it as a global hub of collaborative innovation.
Participants

Participating in the panel discussion will be Chris Simpson, director of the National University Center for Cybersecurity and academic program director for the master of science in cybersecurity program at National University. Simpson has developed innovative curriculum and labs in ethical hacking, pentesting, and incident response. He retired from the U.S. Navy in 2009 after 27 years of service. He holds a bachelor of science degree in computer and information science from the University of Maryland and a master of science degree in information security and assurance from George Mason University.
Also joining the panel will be Jim Skeen Jr., founding president and CEO of Lockton San Diego. Skeen has more than 40 years of experience successfully navigating complex risk factor solutions for verticals such as AIML, basic research communications, construction, cybersecurity, defense, healthcare, hospitality, life sciences, M&A, real estate, retail technology, and workforce solutions. He dedicates significant time and expertise to cyber risk awareness and is a founding board member of the CCOE.
In addition, Eric Basu, CEO of Sentek Global, a technology services provider for the U.S. government mainly related to IT security program management, will be part of the panel. He is a former U.S. Navy SEAL commander who graduated from San Jose State University with a bachelor of science degree in molecular biology and holds an MBA from the Anderson Graduate School of Management at UCLA. Basu launched Sentek out of his home in 2001 and the company now employs nearly 200 individuals with more than 50% being veterans. He also founded the Haiku Cyber Range, a gamified cybersecurity simulator that teaches real world cybersecurity skills via a game interface.
Also joining the panel will be Miguel Sampo, senior director, global sales with Riskrecon. Sampo has more than 20 years  professional cybersecurity experience working with Fortune 100-1000 organizations. He is a strategic thinker with strong technical skills mirrored with the capability for problem solving and building solutions.
He has proven experience on every side of "the business" from sales, sales engineering, product management, to business development, which has provided him with broad business and technology industry acumen.