TECH: CO. HAS MAJOR UNIVERSITIES USING ITS TECHNOLOGY
Occuspace Provides Organizations with Occupancy Data
Sunday, June 27, 2021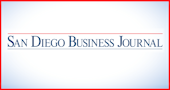 San Diego-based 
Occuspace
, an IoT occupancy data solution provider, has seen significant growth from universities and businesses, such as restaurants, gyms, ski resorts and apartment communities, over the last year in part due to the pandemic.
Founded in 2018, by Nic Halverson, Linus Grasel and Max Topolsky. Occuspace provides real-time foot traffic data and spatial intelligence for businesses to better understand and control how their buildings are being used.
"We have more inbound interest than we've ever had," said Nic Halverson, founder and CEO of Occuspace. "Over the last 12 months, the company has seen 5x year-over-year growth as workplaces and education institutions accelerate their reopening plans."
Collecting Data

Leveraging an IoT sensor, it can pinpoint Wi-Fi and Bluetooth signals from mobile devices such as laptops and smartphones within about 4,000 square feet. Its algorithm then predicts occupancy at up to 95 percent accuracy.
In particular, it can estimate the number of people in a space — for example, students studying on a floor of a big university's library. Students can see the data in real time to avoid crowds. Its sensors also work in restaurants, gyms, and offices.
"Occuspace is helps businesses more accurately understand, control, and improve the way their spaces are being used to enhance the visitor experience and increase efficiencies and cost-savings," said Halverson.
Its technology has been deployed mostly in libraries at about a dozen universities so far, including Baylor University, University of Rochester, Oklahoma University, multiple University of California campuses.
"Long before the coronavirus outbreak, staff at our River Campus Libraries have desired to get a better sense of how many students are using the spaces at any given time," said Lauren Di Monte, associate dean at the University of Rochester. "Each day's data provides a chance to evaluate how spaces are being used and how they could be modified to make them safer or more accommodating during this precarious time."
Helping Over 450,000 Students

To date, it has helped over 450,000 students stay safe and socially-distanced across the U.S. and Canada. The cost to deploy the technology on campus can range from $8,000 to $25,000 annually for university libraries, depending on the size, said Halverson.
An early-stage startup, it has doubled the team size from four to eight people and is headquartered in Mira Mesa. Annual revenues were not disclosed.
Halverson said gyms are a natural extension of the technology, which he would like to see eventually integrated into services such as Apple Maps, Google Maps and Yelp. Looking forward, the company plans to enter new verticals as well.