REAL ESTATE: DEVELOPMENT TO HAVE MORE THAN 2,700 HOMES
Construction Starts on $1.3B Otay Ranch Project
Sunday, June 27, 2021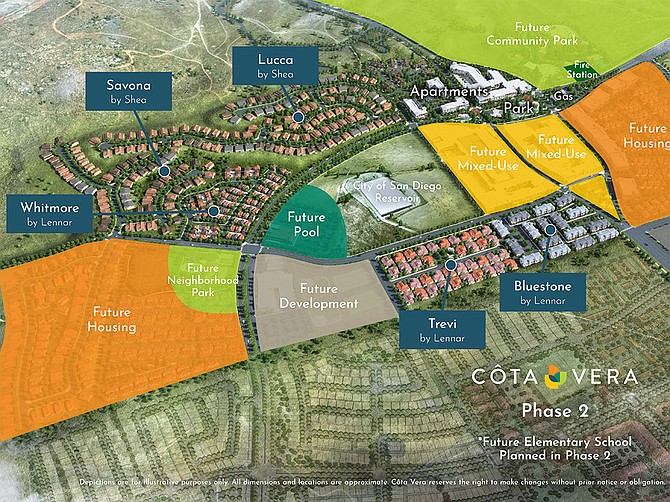 Construction is starting on a nearly $1.3 billion housing project by 
HomeFed Corp.
 of Carlsbad that covers 868 acres in Otay Ranch that will ultimately have more than 2,700 homes and more than 2,100 rental apartments.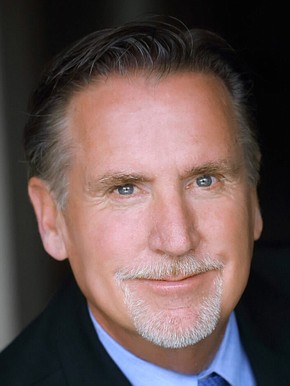 The Cota Vera development will be built in two phases, with the first phase expected to be finished in four to five years with a second phase to follow, said Kent Aden, president HomeFed.
The first phase of the project will include about 2,000 homes, Aden said.
The second phase will have about 1,700 for-sale homes and about 996 rental apartments.
Cota Vera is the second master-planned community for HomeFed in Otay Ranch.
The company in partnership with Shea Homes, Lennar, and Brookfield Residential has completed the 450-acre Village of Escaya.
Aden said demand for housing is so intense that Escaya sold out faster than anticipated.
Pricing of the homes in Escaya started at a little more than $400,000 and went up to more than $700,000.
Although pricing in Cota Vera is set by the individual builders, Aden said he expected them to be higher than in Escaya because of the rising cost of construction materials.
He said they would likely start at about $500,000.
European Inspiration

HomeFed is the master developer of Cota Vera and Lennar and Shea Homes are residential building partners.
Aden said negotiations are ongoing with other builders to participate in Cota Vera.
Shea is building 232 single-family homes in Cota Vera and Lennar is building 106 single-family homes and 224 attached homes in a mix of townhomes and triplexes, Aden said.
Meta Housing Corp. based in Los Angeles also will build an affordable housing project in Cota Vera with 175 apartments, Aden said.
Among others working on the project are Bassenian Lagoni architects based in Newport Beach, KGTY architects based in Chicago, Stark Architecture + Planning based in Little Italy, Hunsaker & Associates engineering based in Mira Mesa, Hale Engineering based in Kearny Mesa, and Wimmer, Yamada & Caughey residential landscaping based in downtown San Diego.
The idea behind Cota Vera was inspired by European villages and borrows from the design of Eiljo Hills, a 1,921-acre HomeFed community in San Marcos.
"We're trying to take the character that you find in an Italian village where you have these community gathering places, like this downtown square. It's meant to pick up some of those charming elements you would find throughout Europe but not in a literal way. It's not a Disneyland stage by any means," Aden said.
A key element to San Eiljo Hills that is being replicated in Cota Veta is a couplet of one-way streets that form an ellipse around a town center.
"What we're doing a little differently is that town square is very informal. It's a place for people to come and gather and have a cup of coffee in the morning, a glass of wine in the evening," Aden said. "It's meant to be a very vibrant community."
It will include an area for food trucks to pull in for special events.
"All the utilities will be there to make an easy hookup for those types of events," Aden said.
The design for the Cota Vera town square came in part from recommendations made in a project by students in an entrepreneurship program at California State University San Marcos.
"The goal here was to actually bring people in to use the area. That's one of the things the kids were big on. They also had recommendations on plenty of seating areas and benches," Aden said.
A Rarity

Phase 2 of Cota Veta is still in the planning stages with the timing of construction depending on market demand.
"It will have an elementary school and a neighborhood park in it. It will have more retail. We're looking at some age-targeted housing," Aden said.
The thinking is to have some housing that targets people over the age of 55.
"Some parents and grandparents might want to move into the community and have housing address more of their needs, either single-story or with master bedrooms downstairs," Aden said. "We're exploring that idea. We're going to see what the market demand is for this new product."
Cota Vera also will include some design elements that grew from the COVID-19 pandemic.
"We're doing less interior building space and more exterior gathering space," Aden said.
For example, in the past, planned communities had amenities clustered in an elaborate clubhouse.
Cota Vera will have a clubhouse, but it will be smaller.
The whole emphasis is getting people outdoors.
"A priority theme will be health and wellness and what we call community connection. It's that idea of getting people outside, meeting their neighbors," Aden said.
Master-planned communities such as Cota Vera, Escaya, and San Eiljo Hills have become a rarity in San Diego County of late.
"Back in the 1980s when I was working on Eastlake, I probably could have counted 10 or 12 other master-planned communities in San Diego," Aden said, referring to the suburban Chula Vista community. "Today, I don't think I can get to three of that scale."