CONTRACTOR WILL OPERATE MQ-9S FOR THE U.S. MARINE CORPS UNDER $11 MILLION DEAL
GA-ASI Sells Aircraft Services to Department of the Navy
Sunday, June 13, 2021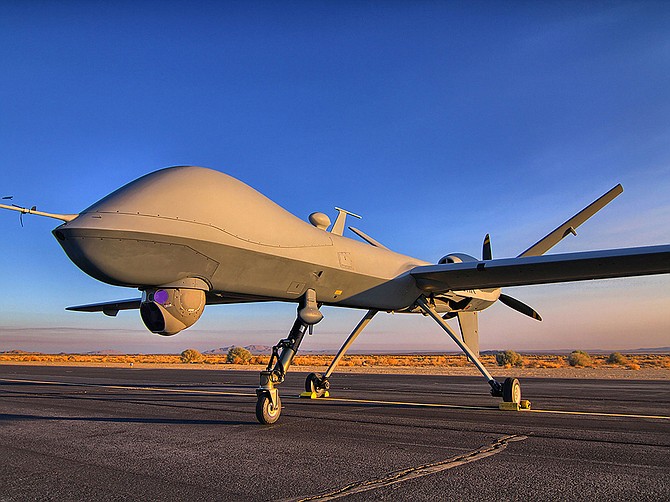 The U.S. government and Poway-based 
General Atomics Aeronautical Systems Inc.
 recently announced two deals related to its MQ-9 remotely piloted aircraft.
Department of the Navy awarded GA-ASI an $11.2 million modification to a previously awarded contract. The government exercised an option to buy what the military calls Group 5 unmanned air system (UAS) intelligence, surveillance and reconnaissance support for outside the Continental U.S. (OCONUS) Task Force Southwest and Marine Corps operations using contractor-owned and contractor-operated MQ-9 Reaper aircraft. Some 45% of the work will be performed in Yuma, Arizona, 15% in Poway and 40% in various locations outside the continental United States. Work is expected to be completed in August. The Naval Air Systems Command of Patuxent River, Maryland awarded the contract, announced on May 27.
In a separate deal, announced by GA-ASI on May 27, the San Diego County company said it will upgrade MQ-9 aircraft for the Italian Air Force. Under a foreign military sale arranged through the U.S. military, the Italian aircraft and ground control stations will go through a midlife modernization program, which will upgrade them from Block 1 configuration to a more advanced Block 5 configuration. The Block 5 system includes significantly increased electrical power capability, improved landing gear and the later versions of the GA-ASI Lynx multimode radar and Raytheon electro-optical sensors.
General Atomics Aeronautical Systems is an affiliate of General Atomics of La Jolla. The companies are privately held.

Five Companies Split Up Electronics Deals
The U.S. Navy awarded Booz Allen Hamilton Inc. of McLean, Virginia, CSSI Inc. of Washington, D.C., DIGITALiBiz Inc., of Rockville, Maryland, Serco Inc. of Herndon, Virginia and Scientific Research Corp. of Atlanta, Georgia indefinite-delivery/indefinite-quantity contracts that could be worth up to $279.8 million over five years, or $400 million if the Navy exercises options to extend the contracts. The contracts cover engineering support services and supplies for the conception, design, development and delivery of integrated systems, networks and supporting infrastructure on a non-emergent basis along with the corresponding engineering, technical, and management support services and equipment for air traffic control, meteorology and oceanography, and aviation command, control, communications, computers, combat systems, intelligence, surveillance, and reconnaissance electronic systems.
Some 23% of the work will be performed in San Diego with the balance in Charleston, South Carolina. Work is expected to be completed by May 2028. If options are exercised, work could continue until May 2030. The contracts were competitively procured by full and open competition via the Naval Information Warfare Systems Command - Electronic Commerce Central website and the beta.sam.gov website, with five offers received. The Naval Information Warfare Center (NIWC) Atlantic of Charleston awarded the deals, announced on May 28.