City National Bank Funds Operation HOPE
Friday, June 11, 2021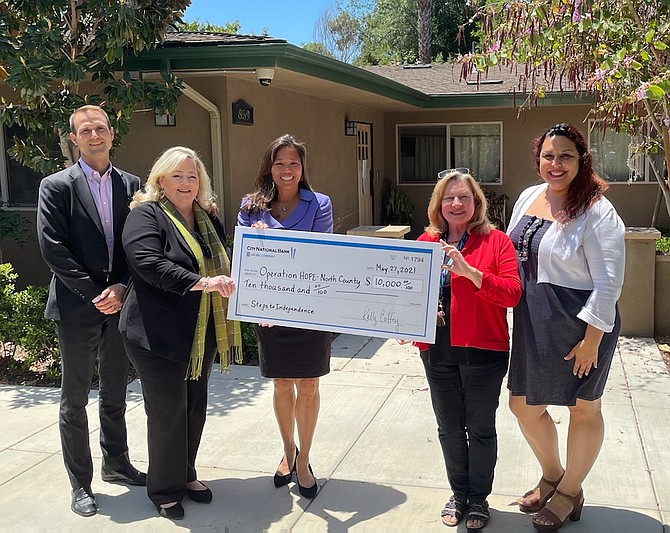 City National Bank has donated $10,000 to Operation HOPE-North County in Vista. The bank made the announcement on June 9.
The funds will help Operation Hope-North County provide assistance to more families with children, and single women who are suffering from homelessness, and connect them with resources they need to thrive.
"We have been supporting hundreds of nonprofit organizations in San Diego for the past 42 years since entering this region in 1979," said Travis Van Treese, senior vice president and commercial banking manager for City National. "Virtually every nonprofit in San Diego has been impacted by COVID-19 and needs the community's support so they can continue to help the underprivileged and less fortunate. We are pleased to continue to support our nonprofit community in San Diego with monetary, in-kind and volunteer support."
City National contributes financial, in-kind and volunteer assistance to nonprofit institutions and organizations that enhance the quality of life and promote public interest where the company conducts its business. The main areas of the bank's community outreach include education, affordable housing, financial literacy and community development.
Operation HOPE-North County offers a safe, caring and supportive environment to families with children and single women experiencing homelessness. Shelter residents are required to participate in all shelter activities as they are a foundation to regaining independence and stability. Assistance is provided to help them with job skills, educational opportunities, housing and personal needs. Operation HOPE commits to social justice and supports equality for every human being. Its volunteers and employees stand together with their brothers and sisters of color and community and pledge to be a part of the change for racial and economic equity.
City National Bank provides banking, investment and trust services through 74 offices, including 19 full-service regional centers, in Southern California, the San Francisco Bay Area, Nevada, New York City, Nashville, Atlanta, Minneapolis, Washington, D.C. and Miami. It has $83.4 billion in assets. In addition, the company and its investment affiliates manage or administer $93.2 billion in client investment assets.
City National is a subsidiary of Royal Bank of Canada (RBC), one of North America's leading diversified financial services companies. RBC serves more than 17 million personal, business, public sector and institutional clients through offices in Canada, the United States and 27 other countries.