San Diego-Tijuana Selected as World Design Capital Finalist
Monday, July 19, 2021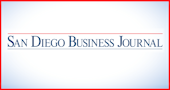 The San Diego-Tijuana region has been selected as one of the two shortlisted finalists in the bid to become the World Design Capital in 2024. 
The World Design Organization chose San Diego-Tijuana based on its "approach to human-centered design, its use of design as a vehicle for improved quality of life and commitment to cross-border collaboration," according to the organization.
Moscow, Russia, also made the shortlist.
"This is an incredibly exciting opportunity to not only showcase our binational region as a longstanding design and innovation powerhouse, but to also shape the narrative around what it means to be a 21st century metropolis," said Michele Morris, president of the Design Forward Alliance. "Our region is uniquely positioned to face the complex social challenges of our time by utilizing the broad spectrum of design practices that thrive here, including arts and culture, applied design, urban and environmental planning, user experience, systems design, design strategy, innovation and more. The San Diego-Tijuana bid aligns with our regional values, priorities and communities to design and support our future."
As part of the shortlist evaluation process, the World Design Organization will visit the San Diego-Tijuana region to meet with bid organizers and region representatives. The purpose is to verify information provided in the bid and experience a sample of what the city will offer if chosen the winner, according to a press release.
The winning city will be named in October. The potential overall economic impact of the year-long designation is estimated at approximately $1.5 billion.
Travel & Hospitality reporter Mariel Concepcion can be reached at mconcepcion@sdbj.com or 858-634-4625.