SDBJ INSIDER
On Board
Monday, July 19, 2021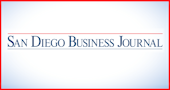 Endera
, the San Diego-based all-electric commercial vehicle company is adding Joe Pritchard as a member of its board.
Pritchard, president and CEO of the Prichard Companies, is no stranger to the electric vehicle market having been a premiere national dealer for electric vehicles and equipment.
"Joe has helped pave the way for vehicle electrification with a mission to deliver zero emissions to the next generation," said John Walsh, Endera's CEO.
Pritchard's addition to the board will establish multi-generational experience and connections across the entire transportation sector helping to build on and develop relationships in additional markets, according to Endera.
Established in 2018, Endera describes itself as a "vertically integrated technology company specializing in commercial electric vehicles, charging stations and software solutions." They design American made electric vehicles and provide transportation and energy services that leverage leading technologies and American manufacturing. The San Diego Business Journal featured a full story on the company in our July 5 issue.
Pritchard Companies is a family-owned national automotive enterprise providing fully integrated solutions to the commercial vehicle industry and was established in 1913.
+++

Jewish Family Service
 of San Diego has named Emily Jennewein as chair of the nonprofit's board of directors. She will be replacing Adam Welland.
Jennewein served as president of Hillel of San Diego from 2017 to 2018 and 2014 to 2016 where she oversaw the construction of the Melvin Garb Hillel Center at San Diego State University and won unanimous approval from the San Diego City Council to build the Beverly and Joseph Glickman Hillel Center at UC San Diego. From 2011 to 2013 Jennewein was president of the Congregation Beth Israel.
"Emily's dedication to the Jewish community, as well as San Diego at large is well known throughout the region," said CEO Michael Hopkins.
Jennewien served as principal for a website and marketing communications firm for 25 years before retiring professionally. She is an Amherst College graduate and received her MBA from Dartnouth College's Tuck School of Business.
Also being added to their board is Dr. Li-Rong Lilly Cheng, director of the Chinese Cultural Center at SDSU; and Sid Voorakkara, senior vice president at Strategies 360, a full service research and public affairs and communications firm.