SDBJ INSIDER
Health Resources
Monday, July 12, 2021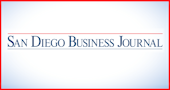 The Scripps Mercy Family Medicine Residency Program will be receiving $2.85 million in grant funding from the Health Resources and Services Administration. The residency program will use the funds over the next five years to "develop and implement initiatives to enhance physician training in family medicine, obstetrics, and maternal and child health along the U.S.-Mexico border."
The Scripps training program is one of 31 medical residency programs in the U.S. selected as an award recipient in HRSA's competitive grant funding opportunity. The program was open to primary care residency programs nationwide.
With the funding, Scripps aims to increase the number of primary care physicians trained in public health, enhanced obstetrical care and general preventative medicine with maternal healthcare expertise. The program is based at Scripps Mercy Hospital in Chula Vista.
"This new funding will play a vital role in expanding our efforts to make an even greater impact on the health and well-being of our underserved communities," said Dr. Ghazala Sharieff, Scripps Health chief medical officer for acute care, clinical excellence and experience.
+++
San Diego-based
Synergy Health Partners
, an outsource physician staffing and call management company has announced a new partnership with Ivinson Memorial Hospital in Laramie Wyoming. Synergy Health will provide the hospital with a specialized team of orthopedic surgeons to deliver coordinated care.
According to Synergy Health, this partnership will allow the hospital to grow its capacity and orthopedic services. The hospital is a 99-bed rural facility that was recently recognized as a 2021 Top 100 Rural and Community Hospital by the Chartis Center for Rural Health.
Synergy Health Partners is a national, physician-first firm that works to solve challenges facing many hospitals today with custom staffing programs, call compensation management, and emergency department performance management. The company is the result of a June 2020 merger of Synergy Surgicalists and EA Health. They are a national company, but deliver healthcare locally prioritizing a regionally customized, ethical approach that is centered on patient care within the communities they serve.