SDBJ INSIDER
Education Innovation
Monday, July 5, 2021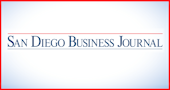 The innovative nonprofit
Cristo Rey San Diego High School
recently completed its first year supporting low-income students. The high school welcomed its inaugural class of 125 freshmen students in August 2020 with virtual classes then opened in person in September.
The school uses a unique corporate work study program as a model of education that gives students not only a college-preparatory education, but at the same time they earn work experience in a corporate setting. Through the work-study program students spend five days a month working at one of the school's corporate partners to help pay for their tuition while obtaining practical real world experience.
Local work study partners have included Rady Children's Hospital, CBRE, and Precision Diagnostics.
The school enrollment has doubled for next year and it is looking for an additional 20 companies that would like to partner in helping students get practical real world experience.
"It's about exposure, seeing what the world is like beyond the classroom," said CBRE Managing Director Natalie Dahl, who provides her students with a variety of tasks.
The students are considered employees of the program, not the job partners. Partners pay a flat fee to the program for one full-time work study team. The program handles all payroll, I-9s, and paperwork.
+++
California Coast Credit Union
's Cal Coast Cares Foundation awarded 32 scholarships totaling more than $91,000 to area high school and foster students.
The nonprofit foundation provides scholarships to current college students, graduating high school seniors and foster students to help them pursue high education.
"These students have remained resilient and continued to strive toward their goals despite the unprecedented challenges they faced in the past year," said Todd Lane, CCCU president and CEO.
+++
Congratulations to Dr. Star Rivera-Lacey who was recently named the new superintendent/president of North County's
Palomar Community College District
.
Rivera-Lacey will oversee the 24,000-student district with an annual budget of close to $582 million.
She will begin her new position on July 26.