SPORT: AMERICAN WAVE MACHINES AND PARTNERS HELP TEAMS TRAIN IN JAPAN
An Olympic Feat for Solana Beach Firm
Sunday, July 4, 2021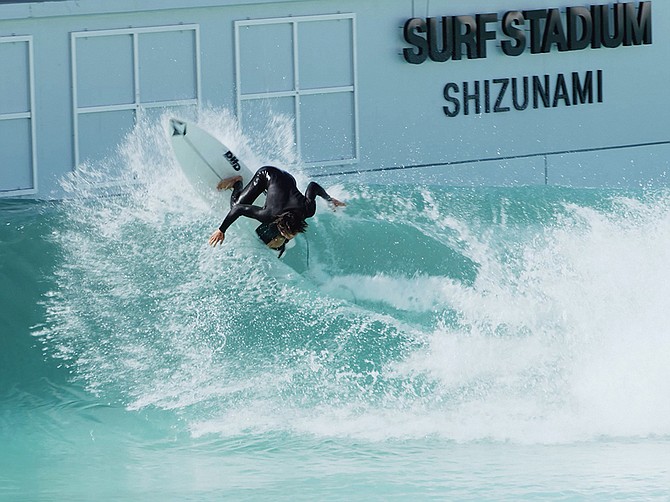 American Wave Machines Inc.
 has finished its most advanced wave-generating pool yet in a town southwest of Tokyo, just in time for the Summer Olympics.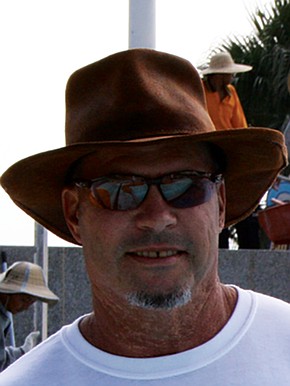 With COVID-19 upending normal life in Japan, the company had to supervise construction of the pool, owned by a Japanese corporation, from 5,500 miles away. In early June, company officials generated their first wave on the pool from their Solana Beach office, via a telecommunications link.
Finally, company employees are getting to see their work in person.
"In spite of COVID, supply chain challenges and a state of emergency declared in February 2021, AWM arrived this Monday [June 28] in Makinohara and is preparing for Olympic teams to train at the facility," said Bruce McFarland, founder of American Wave Machines.
The Tokyo Olympics are set to run July 23 through Aug. 8. This will be the first time surfing is an Olympic event.
"First only happens once," said McFarland, "and AWM with Surf Stadium Japan is ready."
The cost of the 2½ acre pool and stadium was not disclosed. In a 2016 interview, McFarland said a world-class facility can cost in the seven-figure to eight-figure range.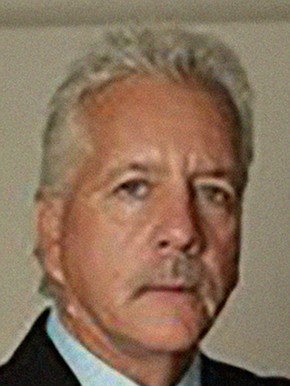 At least two national teams plan to train at the new PerfectSwell wave pool at Shizunami Beach in Makinohara, said Michael Lopez, senior vice president with American Wave Machines. The Japanese surfing team plans to train at the facility on July 12 and 13. The American team will do so July 16-19.
Getting Visas

In Japan, COVID-19 cases peaked in January and again in May. They are now on the decline. It was against this backdrop that American Wave Machines received news from the Japanese embassy that three company employees had visas to enter the country to make finishing touches on the pool.
"It's been tough," Lopez said. "We've wanted to commission the pool for a couple months now."
The commissioning team includes a mechanical engineer, a software engineer and a professional surfer — the latter because the best way to judge the quality of the waves being generated is by feel, Lopez said.
"We have a 30-day commissioning [window]. We're trying to do everything possible to create as many waves as we can."
The pool generates waves that can give surfers a 12-13 second ride. It produces 83 variations of waves.
American Wave Machines trimmed a normal construction timeline from 15 months to 12 months to be ready for the Olympics, said Lopez.
The business had its general contractor and construction team in Japan, but had to supervise construction from the United States.
"Thank God for Zoom," said Lopez. He added that the interpreters that helped cross the language barrier had all been "phenomenal."
The venue introduces the fifth generation of American Wave Machines' technology, with elements that offer what the company calls "temporal distortion" to waves. There are also upgrades to the system's power response.
American Wave Machines has 41 patents on its technology, and plans to protect its inventions and patents, Lopez said. Dentons provides the company's legal representation.
A Project Years in the Making

According to McFarland, American Wave Machines spent years laying groundwork for the Japan project.
The concept of pools with manmade waves gained respect when surfer Kelly Slater opened his pool in California's Central Valley in 2015.
McFarland credits Fernando Aguerre — one of the brothers who founded the Reef clothing line, and president of the International Surfing Association — for persuading the International Olympic Committee (IOC) to officially recognize surfing as a sport for the Japan Olympics. That happened in August 2016.
With the recognition, American Wave Machines got to work.
"AWM realized PerfectSwell could meet the IOC criteria of Gender Equity, Innovation, and Venue Sustainability post-Olympics and began a campaign in Japan beginning in October 2016," McFarland said. "The result was a deal with Surf Stadium Japan in Makinohara in November 2019."
American Wave Machines hosted a news conference in Tokyo in February 2020 to announce the groundbreaking of the site. At the time, COVID-19 was a new phenomenon. "We didn't understand the impact of it because it just started," Lopez said. "The country was on high alert. When we got home, our whole world changed."
It became apparent that the construction project would not be a normal one. Yet the partnership worked, despite supply chain disruptions, a pandemic and language differences.
The wave pool in Makinohara is only a few hundred feet from the beach. The town is about as far from Tokyo as Los Angeles is from San Diego.
American Wave Machines is developing a wave pool in Brazil as well as a pool in New Smyrna Beach, Florida, near Orlando. The latter is expected to open in the fourth quarter of 2022. The Solana Beach company also plans to occupy and office in New Smyrna Beach.
It has other projects that have yet to be announced, Lopez said.

American Wave Machines Inc.

FOUNDED:  2000
FOUNDER: Bruce McFarland
HEADQUARTERS: Solana Beach
BUSINESS: Company that designs and engineers machines producing artificial waves for surfing
REVENUE: In the multiple millions of dollars
EMPLOYEES: Eight
WEBSITE: www.americanwavemachines.com
NOTABLE: The business has 41 patents on its technology and is applying for more around the world
CONTACT: (858) 755-1497