SOCi Receives $80M in Series D Round, Mulls Acquisitions
Tuesday, January 26, 2021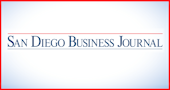 SOCi, a Downtown-based B2B software firm that caters to multi-location marketers, pulled in $80 million in its Series D investment round, the company announced on Jan. 21.
JMI Equity of La Jolla and Baltimore led the round. An existing investor, Newport Beach-based Ankona Capital, participated in the new round, as did SOCi CEO and co-founder Afif Khoury and board member Doug Winter. Winter is co-founder and CEO of another San Diego tech business, Seismic.
"We're quite pleased" to close the round, Khoury said, particularly since it comes on the heels of a turbulent time.
SOCi said it will use the funds to expand its sales and marketing teams as well as invest in product development. It also said it planned to explore strategic mergers and acquisitions.
Khoury said SOCi is in active conversations with multiple companies. "I think our market is really well-suited for some consolidation," he said, adding that he sees "fantastic opportunities."
There are many good reasons to grow through acquisition, he said, including acquiring talent, combining symbiotic product lines and getting speed to market.
News on the acquisition front could come as early as the end of the first quarter, he said. The fit, however, has to be right. Khoury said he did not want to rush into anything.
"It's not something we feel we have to do."
The venture capital comes one year after SOCi closed $15 million in Series C funding. Investors in January 2020 included Vertical Venture Partners and Grayhawk Capital.
All-in-One Marketing Platform
SOCi bills its product as an all-in-one marketing platform, able to help businesses with their localized marketing — specifically, managing clients' internet presence via social media, searches, reviews and ad campaigns.
The business counts among its clients Ace Hardware, Anytime Fitness, Sport Clips, The Hertz Corp. and Nekter Juice Bar. In all SOCi counts 350 national and global enterprises — who do business at more than 100,000 individual locations — as its customers.
SOCi asserts that its time has come because brands have become more reliant on local search and local social media to reach customers, particularly during the COVID-19 pandemic. Customers consult the internet for information about topics such as changes in hours and product availability. Facebook and Google have joined this shift to local.
With 180% revenue growth between 2017 and 2019, SOCi nabbed the No. 4 spot on the San Diego Business Journal's most recent list of Fastest Growing Private Companies, in the medium company category. SOCi's revenue was $13.37 million in 2019, up from $8.76 million in 2018 and $4.77 million in 2017.
In August, Inc. magazine ranked SOCi as the 71st fastest growing company in California, and the 964th fastest growing company in the United States.
In a statement, SOCi said it has continuously exceeded revenue and growth goals despite a challenging economy.
Thinking Local
"The localized marketing movement could not have been more important than it was in 2020," said Khoury. "For multi-location enterprises, the ability to connect with local audiences across numerous key marketing channels was critical to keeping their local businesses afloat. SOCi's comprehensive platform was built to optimize that local engagement in every meaningful way, and we are proud to have empowered so many brands and their locations to thrive in an environment where so many have struggled.
"JMI Equity's investment in SOCi in the midst of such a tumultuous time is a testament to SOCi's value to its customers, as well as to its leadership, execution and the tremendous market opportunity out in front of us. JMI's experience and expertise investing in high-growth enterprise software companies, as well as their acumen for M&A, will help us move aggressively through 2021, and accelerate our localized marketing industry leadership."
JMI Equity focuses on software investments. Founded in 1992, JMI has invested in more than 150 businesses in its target markets. It has successfully completed more than 100 exits and has raised more than $4 billion in committed capital.
The economy of 2021 is a challenge. "All signs point to an equally difficult first few months of this year for restaurants and other businesses dependent on their communities," said Suken Vakil, general partner at JMI Equity. "This means there will be a continued need for localized marketing campaigns that align with national brand values but also provide for community-specific messaging."
SOCi, which is part of the Downtown tech cluster, ranks third on the San Diego Business Journal's most recent list of largest local Software as a Service providers, behind only Mitchell International Inc. and Certona.
SOCi splits its workforce between San Diego and Austin, Texas.