Carlsbad Firm Grows, Expands Product Offerings
Tuesday, January 19, 2021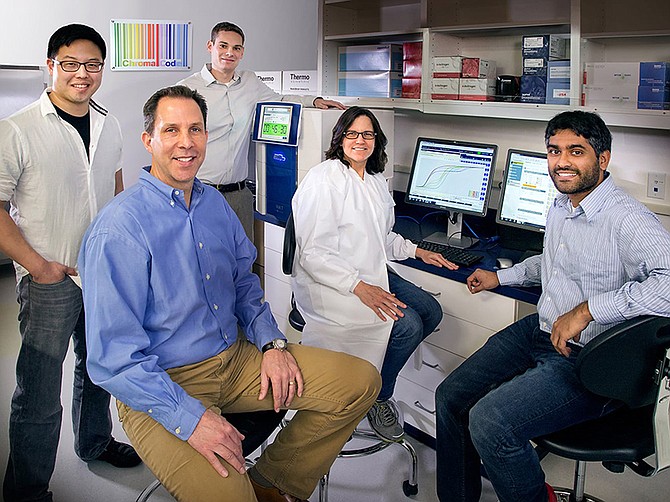 ChromaCode, a Carlsbad-based molecular diagnostics company seeks to expand after becoming a newly profitable company and is seeing growing demand for its products.
In 2020, the company saw explosive growth in sales largely driven by demand for its newly approved COVID-19 test, as well as the company's low-cost testing platform.
In six months, the company grew its team to 80 staffers, up from 45. ChromaCode will likely double that number again this year, as it gears up for another high growth year.
Greg Gosch, ChromaCode's chief executive officer said the company's revenues are two years ahead of schedule, crediting his team for its ability to find innovative solutions to battle COVID-19 while also addressing laboratory testing challenges.
"Our mission to battle COVID-19 continues by addressing laboratory testing. It's quite an accomplishment to go from one million tests to two million tests shipped in such a short time frame," said Gosch. "Every individual at ChromaCode has contributed to our response to the global pandemic, and I'm grateful to our hard-working team for reaching this goal."
Low-Cost Technology
Founded in 2012, ChromaCode is a software and reagent technology company that uses digital signal processing to dramatically improve clinical molecular analysis.
Its platform can boost the performance of commonly used molecular diagnostics instruments and reagents, powered by data science technology and cloud computing algorithms.
 In addition, it can detect multiple disease targets in a single process.
"The key to our technology is not only its low-cost but it also has very high throughput, meaning labs can run a lot of samples through in a short period of time," said Gosch.
ChromaCode's technology works on common molecular instruments from Thermo Fisher, Roche and others — with about 100,000 of these machines in service worldwide. The company says its tests cost considerably less than proprietary tests that can detect multiple pathogens.
The company generates revenue by selling its technology to clinical reference labs that conduct clinical specimen reports and large hospitals that run tests themselves.
"ChromaCode's HDPCR leverages the sensitivity and specificity of real-time PCR - the gold standard for molecular testing," said Chris MacDonald, vice president of operations and data science at ChromaCode. "Because HDPCR is platform-agnostic, it allows us to leverage the existing global real-time PCR instrument base, meaning our technology can be quickly and easily employed by large or small testing centers everywhere."
2 Million Tests Shipped
ChromaCode's track record includes developing single-run tests for nine tick-borne diseases, strains of drug-resistant bacteria in hospitals, as well as launching its SARS-CoV-2 PCR Assay in April 2020.
To date, ChromaCode has shipped over 2 million COVID-19 tests over the last six months and plans to double that number to as many as 5 million by the second half of 2021. It has more than 10 enterprise customers purchasing its covid-19 tests, so far.
"It took us six months before we shipped our first million tests and within eight weeks after that, we hit 2 million." said MacDonald. "We think we will continue to see those numbers accelerate."
In December, ChromaCode was also named a finalist in the $6 million XPRIZE Rapid Covid Testing competition. One of 20 companies selected, the competition lasts six-month aiming to develop faster, cheaper and easier-to-use COVID-19 testing methods at scale.
Exploring Public Markets
For now, ChromaCode remains focused on enhancing molecular medical tests, its core business. Gosch said the pandemic has also accelerated its previous plan to provide testing for infectious disease oncology and genetics.
Building on its COVID-19 test, the company will introduce a new product that combines flu strains, respiratory syncytial viruses and others in a single test by mid-2021.
Down the road, ChromaCode may explore the public markets through an IPO. Keeping its options open, Gosch said he would also consider potential acquisition interest or merging with another major player in the space.
In June, ChromaCode closed a $38 million Series C funding led by Adjuvant Capital. The money is being used to ramp up production with local manufacturers for its coronavirus tests. To date, the local company has raised $50 million in venture capital.
"Our growth is a testament to our ability to stay flexible and respond quickly to the scale of manufacturing," said Gosch. " The team's done a fantastic job. It's been quite a lift, to be able to scale the company to the levels that we've gotten to."