Home Prices to Grow by 9.4%
Wednesday, January 13, 2021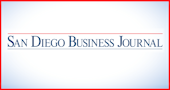 Look for San Diego home prices to rise by 9.4% in 2021.
That's the forecast from Zillow, a national online home listing and research firm and it's a forecast that San Diego real estate professionals say is likely to be on the mark if not a little low.
"Homes are selling quickly, they're selling at much higher prices than last year," said Jeff Tucker, an analyst with Zillow.
"We don't see any reason for those trends to break anytime soon," Tucker said. "We're really just expecting the dynamics that we saw this fall and winter to continue into the near term. The two big questions hovering over the forecast is whether mortgage rates will remain this low. I do expect them to remain low. It's a question of how low do they stay."
As of the last week in December, 30-year fixed mortgage rates were averaging a little under 2.7%, according to the Federal Reserve Bank.
"There's no sign of a takeoff of mortgage rates yet," Tucker said.
"If anything, they've dropped slightly. Tucker said. "I keep expecting these rates to bottom out," he said.
Low mortgage rates combined with a continuing low inventory of homes on the market have helped fuel a steady demand for homes, especially in San Diego, which Tucker said is "one of the hottest markets lately."
"In the top five metro areas, we saw San Diego as the fifth fastest in price appreciation in our latest survey," Tucker said.
Only San Jose, Phoenix, Seattle and Austin have seen home prices rise faster than San Diego, Tucker said
Zillow forecasts that median home prices in San Diego will top $733,000 by the end of 2021.
That comes as no surprise to Ditas Yamane, incoming president of Pacific Southwest Association of Realtors in San Diego County and CEO of Premium Real Estate in National City.
"Based on what's happening with the housing market right now, we're all looking at a spring frenzy for the first two quarters of the year," Yamane said.
Multiple offers are still common, she said.
"You get like 20 offers and they're $25,000 over the asking price and you're scared they're not going to appraise, but you know, it appraises," Yamane said.
She said the San Diego County market could slow somewhat in the third and fourth quarters as the COVID-19 vaccine takes hold and more people decide to put their homes up for sale.
"Right now, inventory is very low," Yamane said.
Rents Rising
Even as home prices rise, rents also have been creeping up, according to Zillow and another listing service, Zumper, which reported that San Diego rents edged up ever so slightly in December.
Zumper reported that the monthly rent for a one-bedroom apartment in San Diego rose by 0.6% in December to $1,800 while the monthly rent for a two-bedroom apartment rose 2.6% to $2,400.