Om Mushroom Superfood Releases New Products
Sunday, January 10, 2021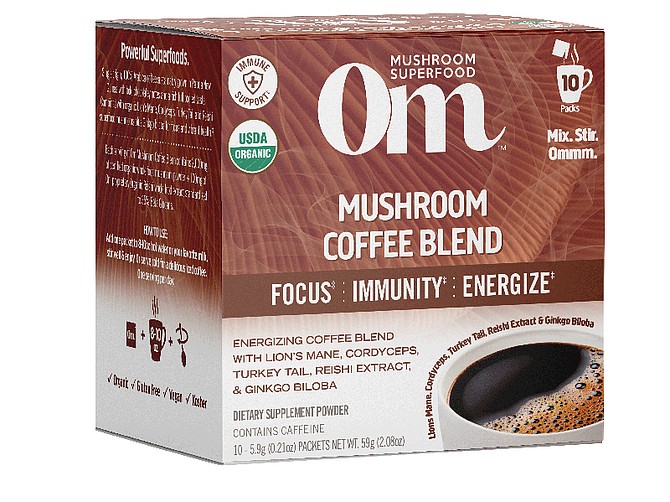 According to Whole Foods Market's "The Next Big Things: Top 10 Food Trends for 2021" report, functional mushroom is one of the ingredients poised to steal the spotlight this year.
"Suppliers are incorporating functional ingredients like vitamin C, mushrooms and adaptogens to foster a calm headspace and support the immune system," the report states.
Carlsbad-based M2 Ingredients Inc., doing business as Om Mushroom Superfood, has established itself as a leader in the functional mushroom category.
Founded in 2010, Om Mushroom Superfood recently released a line of mushroom broth as well as Mushroom Coffee Blend and other beverages including hot chocolate. The company's Mighty Mushroom Broth made Whole Foods' cut as a product people should and want to try in 2021, particularly as more and more Americans become health-conscious as a result of the COVID-19 pandemic.
Rapid Growth
But even before the coronavirus crisis, Om Mushroom Superfood was experiencing rapid growth.
In 2020, the company grew by 164% in the grocery channel and is the No. 1 brand in the mushroom superfood segment according to Spins, a wellness-focused data technology company. It also grew by 70% in the natural channel and is the No. 2 brand in the mushroom superfood segment respectively. Its overall revenue has grown by 70% year-over-year, according to the company.
"At Om Mushroom Superfood, it is our mission to produce high quality, efficacious and innovative products that can easily fit into consumers' everyday routines," said Sandra Carter, founder. "We have seen the increasing awareness of mushrooms as a superfood over the past few years – this trend was already growing rapidly with double digit growth before COVID-19. Mushrooms have unique nutritional benefits that can't be found in other food sources and have a wide range of well-researched benefits from cognitive health to immune health and more. COVID-19 has undoubtedly further raised consumers' awareness for health and wellness and, as a result, people are looking for products that have high levels of nutrition that fit seamlessly into their everyday lives."
Eleven Species of Mushroom
Along with Om Mushroom Superfood's Mycologist Steve Farrar, Carter and her team of about 75 grow 11 species of mushroom in its 20,000 square foot Carlsbad facility. The company was recently awarded the highest rating for global food safety, the Brand Reputation through Compliance "AA" certification, said Carter. It also recently signed a lease for a 40,000 square foot warehouse in Oceanside in response to growing demand.
According to Jan Hall, CEO, Om Mushroom Superfood grows the mushrooms from the master strain through each stage of its life cycle. When the mushroom is at its peak, it is dehydrated, milled into powder form and packaged into pouches. It is shipped directly to distributors, which then delivers the product to over 20,000 retailers across the country. This includes Whole Foods, Publix, Wegmans, The Vitamin Shoppe and CVS Pharmacy.
Om Mushroom Superfood products are also sold online, via Amazon and the company site, to list a few. In powder form, including its functional drink sticks, it can be added to the likes of smoothies, eggs, oatmeal, coffee and tea. Om Mushroom Superfood also offers a full line of capsules and its most popular product, the Master Blend, which combines all mushroom species and contains other adaptogens.
Sometimes the company ships directly to accounts, said Hall. And for products that aren't 100% mushroom based, like the broths (which come in beef, chicken and veggie flavors), it works with a co-packer, with Om providing all ingredients to control the quality and efficacy of the product, she said.
Others Import Their Mushroom
Growing its own product is what sets Om Mushroom Superfood apart from its competitors, said Hall, adding that they are the only ones doing so in Carlsbad, possibly in all of San Diego. Most other functional mushroom companies import the ingredient, she said.
"The vast majority of our consumer base is 25 to 45-year-olds that are proactive health seekers," said Hall, who joined the company in 2018. "Millennials, for example, are looking for easy things they can incorporate that taste good and has the whole food goodness they are looking for. I am amazed, actually, how many young people are interested in mushroom and have heard of lion's mane for clarity, memory and nerve health; reishi as a way of coping with everyday stress; they know athletes take cordyceps as part of their regime; chaga because they know it is great for beauty, healthy skin, hair and nails and is a fabulous antioxidant powerhouse. All this body of knowledge is already out there."