Mall Transformed into Class A Offices
Sunday, January 10, 2021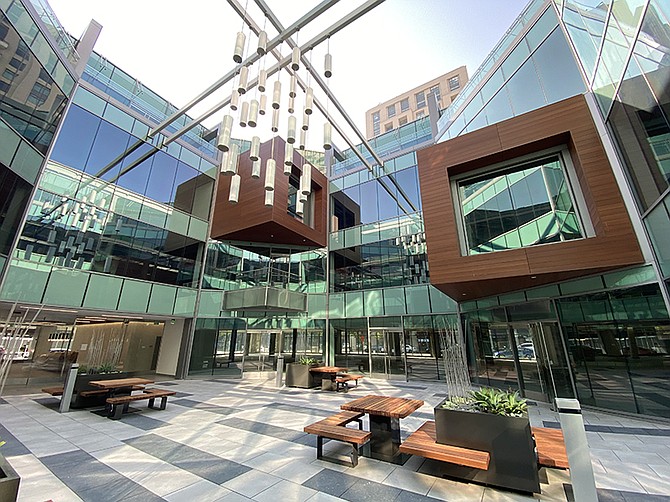 Bosa Development has finished transforming a downtown shopping mall that once sported such pricey shops as Tiffany & Cos, Gucci and Cartier into what the company says is an equally impressive office location.
Coming amid some ongoing uncertainty of the office market caused by the COVID-19 pandemic, the more than $30 million redevelopment of the four-story Paladion at 777 First Ave. has created "a unique offering for downtown" said Richard Weir, vice president of acquisitions and asset management.
"We're very excited about the downtown office market generally. Certainly, COVID was a speed bump but that will pass and we think there's a real transformation coming on. Downtown is attracting the interest of different tenants than it had previously," Weir said. "We all know the story around life science and a lot of people are betting that there will be some significant demand going forward for life science tenants."
With 167,000 square feet of leasable space and floor plates of 47,000 square feet, the Paladion is far different from the office space available elsewhere downtown, said Richard Gonor, an executive vice president of the commercial brokerage JLL.
Gonor is handling leasing along with Tony Russell, managing director of JLL in San Diego, and Brandt Riedman, a vice president of JLL San Diego.
"We've seen a shift across the country toward horizontal development and these big tech companies and life science companies migrating toward low rise type buildings," Gonor said.
Standing Out
Designed by JWDA Architecture, the renovated Paladion also stands out as a low-rise structure amid a sea of office towers, Weir said.
"With the Paladion, we wanted to create an environment that offers the comforts of a suburban campus with the amenities of downtown officing," Weir said.
As a four-story building, the Paladion is a walkable structure for tenants that might want to lease space on more than one floor.
Coincidentally, it also fits with some of the social distancing protocols of the COVID era by giving tenants the option of taking the stairs instead of using an elevator, Weir said.
"While the San Diego office leasing market has been slowed by the COVID-19 pandemic, we are beginning to see companies moving forward with future relocation and expansion decisions," Russell said.
Weir said he expects pent up demand for office space to surface in the next six months.
"Companies are starting to make decisions about their space requirements again," Weir said.
The Market
In addition to capitalizing on the rapid growth of life science companies in San Diego, Bosa Development also is appealing to the traditional downtown tenant base of law firms and financial firms, Weir said.
"The type of product it is, it would appeal to just about any type of tenant that's out there, whether it be financial services, tech companies, software companies, visual media or life science," Gonor said.
Bosa bought the failed shopping mall in 2013 for $27 million, according to CoStar, a real estate research firm.
The company has several notable downtown residential developments and initially planned to add The Paladion to its residential portfolio.
Weir said Bosa Development quickly decided that the site was more suitable for redevelopment as an office product.
"We had a large land base in San Diego already. We decided that the improvements there were so unique that it deserved to be repositioned as a next-generation office building," Weir said.
Gonor said the building had been renovated as office space for American Special Health before Bosa Development, but the earlier renovation was far less extensive.
"It was very functional but needed to be redone and updated and modernized," Weir said.
Renovating
After buying the building, Bosa gutted it and added a new façade.
"Everything about the building is new," Gonor said. "They kept the concrete structure slabs and the frame but everything else in the building is new – all the systems, all the improvements, the glass, the roof, mechanical systems, restrooms. That really should be considered new construction."