Startup San Diego Makes Board Changes
Thursday, January 7, 2021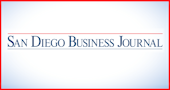 Startup San Diego, the nonprofit that puts on the largest startup conference in the region, named its board members for 2021, adding four new members and acknowledging three retiring members.
The newly elected board members are Ryan Kuder, Startup San Diego's chairman; Caitlin Wege as vice chair; Lauree Sahba as secretary; and Javier Islas as treasurer.
Retiring from the board are Neal Bloom, Eric Otterson, and Phelan Riessen, the latter two were co-founders who helped build the nonprofit from the ground up.
New Leadership
The board changes come a year after appointing Alexa-Rae Navarro, as its executive director in December 2019. The new board members will be expected to lift the organization into new heights.
"As vice chair it's about helping the organization continue to expand its reach, hone in on impact, and be able to speak to our value-add to the community," said Wege. "The roadmap is already laid down for next year, now we just need to add fuel to the fire."
"Over the last couple of years, Neal Bloom has been an amazing asset for this community. It's a privilege to be able to stand where he has stood and I couldn't be more excited to carry on the tradition," said Kuder. "It's an incredible honor."
Serving 2,000 Entrepreneurs
The nonprofit formed in 2015, consists entirely of volunteers who helped put on San Diego Startup Week and other events to help entrepreneurs.
Due to restrictions of hosting large scale in-person events in 2020, the nonprofit reimagined its flagship San Diego Startup Week into a Startup Month, attracting more than 900 registrants and hosted 80 unique experiences.
"The leadership of our board was absolutely pivotal in helping us through that transition and guiding us through the shift to virtual to ensure we were continuing to bring the startup community together. We made it to the other side and learned quite a bit in the process," said Navarro.