Classy Becomes Choice for Nonprofits
Tuesday, January 5, 2021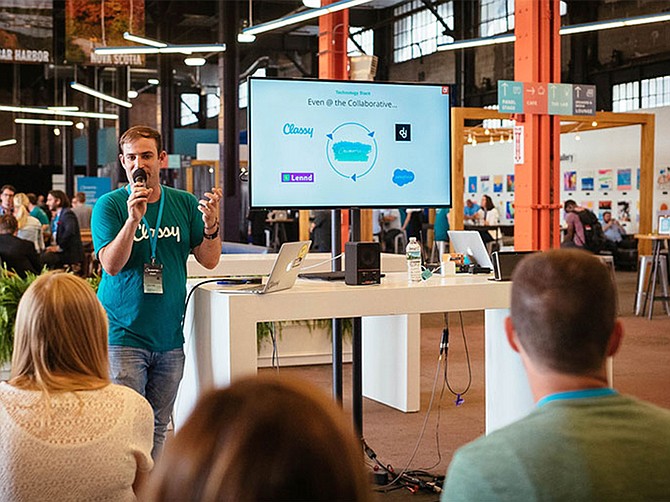 San Diego-based Classy, an online fundraising company for nonprofits, has helped its clients collectively raise over $1 billion for social causes despite challenges caused by the coronavirus.
The amount raised this year marks as the largest fundraising year on the platform to date.
"Nonprofits have worked tirelessly to pivot their strategies and rally their supporters to address the effects of the global pandemic, fight systemic racism, and advance their causes this year," said Scot Chisholm co-founder and chief executive at Classy. "Donors demonstrated their unwavering commitment to these missions."
Classy helps 501c3 or other nonprofit organizations to run crowdfunding, online and mobile campaigns, awareness and fundraising events all under one roof.
Founded ten years ago, Chisholm founded the company along with co-founders Pat Walsh, Marshall Peden and Joe Callahan. Since then, tens of millions of donations from people in roughly 190 countries and nonprofits on its platform have raised over $2.5 billion, to date.
Serving 6,000 Nonprofits
Classy has several different fundraising services that can all be used for various forms of crowdfunding, including direct appeals, peer-to-peer campaigns and event management.
The company's growth has been fueled in part by its advantageous position at the nexus of two trends: the growth of enterprise software-as-a-service (SaaS) and the increase in consumer comfort with online financial transactions, said Chisholm.
A leading platform, it now serves over 6,000 nonprofit customers including Team Rubicon, Trevor Project, Salvation Army, Robin Hood Foundation, and Shriners Hospitals for Children.
More than 261,000 donors contributed to both local and global charities, with Giving Tuesday exceeding records with $37.9 million in donations processed on its platform. More notably, Classy reported a 95% year-over-year donation increase.
"In the most challenging of times, Americans are answering the call to help each other and our society. We are humbled and inspired by the way our nonprofit community has exemplified this in 2020," said Chisholm. "We've seen incredible resilience from our nonprofit customers who are finding new ways to fundraise in an online world to continue to serve their communities."
Roughly 10 percent of all total donations come from online. This number grew when the coronavirus hit, causing everyone in the nonprofit space to shift their efforts from offline to online in terms of fundraising efforts.
Awarded B Corp
Building on over 10 years of experience, in December 2020 Classy became a certified B Corp, a for-profit company that's committed to using business as a force for good.
Moving forward, every decision Classy makes, is taken with an eye on the wider global impact, said Tori Callahan, head of sustainability and stakeholder impact at Classy.
"We are honored to join a community of best-in-class businesses. Completing the B Impact Assessment and becoming a Certified B Corporation really solidifies our focus on building a 100-year brand that takes our impact model seriously," said Callahan.
"This is not the finish line, but rather a jumping off point to continue scaling our mission-driven business model and uniting the nonprofit and for-profit sectors through real, boots-on-the ground action," she added.
There are over 3,500 certified B Corps in the world including Patagonia, Danone, Allbirds and Ben & Jerry. In San Diego, that group is even smaller, joining local companies such as Flock Freight and Dr. Bronner's, among several others.
Looking forward, Classy set a goal of doubling the number of recurring donors on the platform, a milestone it anticipates reaching within the next 18 to 24 months.
"We're delivering real meaningful value to our nonprofit partners and we want to deliver more value," said Chisholm. "We want Classy to be a no-brainer from an ROI perspective to nonprofit organizations; meaning when they use our software, they're able to tenfold their return on that investment. Making us one of the most efficient and effective vehicles on the world."
The company has raised a total of $45 million from investors including JMI Equity, Mithril Capital Partners, Bullpen Capital and Salesforce Ventures.