First Flight for New Ground Station
Monday, January 4, 2021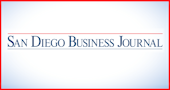 When an unmanned aircraft makes a flight, there are still people involved. They work on the ground to make the flight happen.
Northrop Grumman Corp. (NYSE: NOC) recently updated a crucial component of this behind-the-scenes world, upgrading the ground station for its Global Hawk unmanned aircraft flown by the U.S. Air Force.
The company, which runs its Global Hawk program out of Rancho Bernardo, announced that it completed the first flight of its Ground Station Modernization Program in December at Edwards Air Force Base.
Global Hawk flies at altitudes of 60,000 feet (roughly 11 miles) and uses its sensors to collect information about what's on the ground beneath it. The aircraft can also serve as a substitute for a satellite, relaying information among different military units. It is able to stay aloft for more than 34 hours.
A Boost in Efficiency
"Global Hawk is a critical asset that delivers vital data to U.S. forces and allies 24/7/365," said Leslie Smith, vice president for Global Hawk at Northrop Grumman. "New, modern ground stations for Global Hawk will significantly improve the system and allow operators to more efficiently deliver timely ISR data to war fighters and connect the joint force through its global communications node mission." ISR is an abbreviation for intelligence, surveillance and reconnaissance.
The underlying software for the ground control station is changing, as is the way an operator interacts with the ground station.
According to Northrop Grumman, the modernized Global Hawk ground stations will improve the operator experience with new cockpit displays, the ability to fly all Global Hawk variants without software or configuration changes, simpler maintenance interfaces, and improved situational awareness and environmental conditions for pilots and sensor operators.
In other news, Northrop Grumman reported in early December that it completed an initial phase of the Triton network integration test environment at a military base in southern Australia.
The country is buying a version of Global Hawk built for work over the ocean.