Helping Athletes Improve Speed, Strength
Thursday, February 25, 2021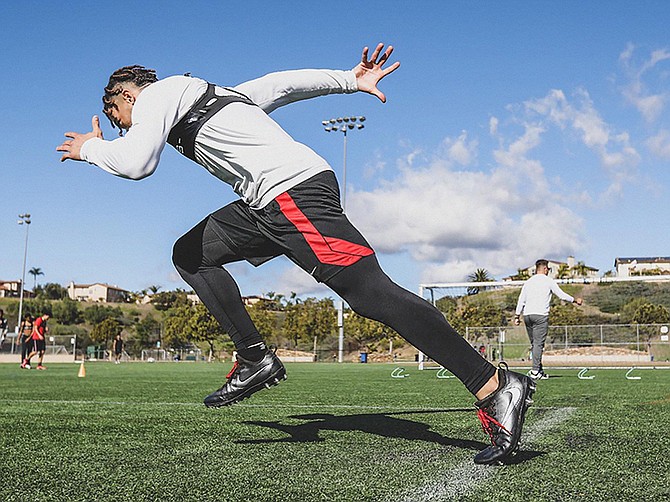 Les Spellman, the founder of Spellman Performance, has emerged as one of America's elite speed performance coaches – training NFL and USA Rugby players, Olympic bobsledders, NCAA athletes, and emerging high school and youth level kids across a variety of sports.
His passion for speed has its roots in his own experience as a young athlete who fractured his femur at 17 years old in a near death car accident. He was left debilitated with a metal rod in his femur and forced to learn how to walk again.
Through this experience, he immersed himself in the study of advanced biomechanics and speed training techniques. Reengineering his speed skills, he later was able to run his way to the elite Division 1 program at Temple University.
Today, Spellman is now passing down his years of experience to inspire a new generation of athletes through his company Spellman Performance.
Teaching the 'X' Factor
Founded in 2012, Spellman Performance mission is to help thousands of athletes increase their speed through individualized programs.
"We believe that speed is not only an inherent trait but an essential skill that can be mastered – the X factor that separates good from great," said Spellman. "We help athletes & coaches by mastering speed through biomechanics, advanced technical training and individualized programs."
Since inception, Spellman has worked with five Olympic Teams, helped more than 20 athletes get drafted into the NFL, worked with two Heisman Trophy Winners. More impressively, he has coached an athlete to a Bronze Medal at Winter Olympics and helped #3 and #1 overall pick in the 2020 NFL Draft.
Each week, the sport consultancy hosts weekly clinics, focusing on teaching athletes acceleration and deceleration techniques. These sessions are held in both San Diego and Orange County, said Spellman, with roughly 300 athletes attending on average.
"Right now we're in Orange County for three weeks and then San Diego. We host a three-part series where we teach athletes acceleration and deceleration. Basically how to stop and reach peak velocity."
Launching an App
Last year, it launched the Spellman Performance app, to provide data solutions for teams, athletes, and coaches looking to individualize their sprint performance.
So far, roughly 2,500 people are using its app. The company expects that number to continue to grow, according to Spellman, adding that it also recently partnered with a NBA trainer which brought on another 1,000 athletes in less than 20 days.
"We have 32 different countries using our app right now. Athletes training from all over the world including Europe, Africa and Asia and South America," said Spellman. "We're going to see a big influx on the digital side, grow over the next couple years."
Spellman started his career at EFT Sport Performance, working as an NFL combine trainer. In 2017, he owned and operated Maxim Athletic, a San Diego-based fitness facility serving more than 200 clients before transitioning to start Spellman Performance. He also has helped over 100 students receive college scholarships.
Spellman Performance is also a part of San Diego-based Boss Lab, which was launched by Pillsbury Winthrop Shaw Pittman last year as part of an $11 million commitment to fighting racial injustice and supporting more Black-owned startups.