Helping Clients Build Wealth
Wednesday, February 24, 2021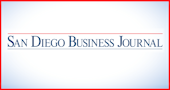 Lawrence Weller formed his financial planning and investment management company — ECF Wealth — in 2017 after spending more than a decade serving as a financial advisor at several wealth management firms in San Diego. 
"I started in the industry in summer of 2009. I wanted to be a consultant more than a salesperson," said Weller, founder and president at ECF Wealth. "I slowly emulated the different licenses that my mentors obtained, learned about the pricing and the different styles of an advisor. In doing so, I was able to figure out my level of business I wanted to have."
More Than 50 Clients
Since then, Weller has built its client base to more than 50 "family trees," which includes serving both parents as well as their kids. Working as a fiduciary for his clients, the firm provides services including investment management, personal finance consulting, and everything in between.
To fuel the business, the firm has built out a team of service providers to become a one-stop-shop for all of its clients.
Weller said having this type of service provider network is a "win-win," as it allows his lifestyle practice to provide value to existing clients while also providing referrals to his business partners in related verticals. 
"Over the years, I've developed long-term relationships with a local CPA firm, Realtor, lender, an insurance brokerage firm, an estate planning attorney, and business attorney, all based out of the San Diego area," said Weller. "This has allows us to deliver high service for our clients. And it's also one of our biggest referral generators."
Going Virtual
The firm works with primarily high-net worth individuals, typically above the age 45 and many whom are not tech-savvy.
This strategy has worked well, said Weller, noting serving high-end client brings both accountability while maintaining high-standard outcomes for its clients. 
Despite the uncertainty caused by the coronavirus, ECF Wealth was able to retain all of its client base, while also bringing on several new families. The biggest challenge was shifting to a virtual environment, said Weller. 
"When COVID hit, we needed to conduct business without seeing each other in-person. I quickly reached out to every one of my clients, especially the ones weren't very tech-savvy and let them know what was going on with their finances," said Weller.
As a result of pivoting to virtual environment, ECF Wealth had its best year yet. Last year the company reported it increased its revenues by 25%. It plans to continue conducting business virtually over the next 12 to 24 months.
Expanding and Building
Looking ahead, Weller said the goal is to focus on building a bigger "online presence," to attract clients from the younger demographic. 
"I'm now focused on increasing our online presence," said Weller. "Today's research shows people under 45 are more likely to check online for someone like me, instead of speaking to a friend or a parent, or someone they look up to for referral. This is especially becoming the case because of the 'Zoomification' of the business world."
Weller moved to San Diego during the great recession in 2008. He credits his mother Penny Weller and sister Bridget Weller for helping instill a Midwestern work ethic and prioritizing the content of character, early on.
Headquartered in the Gaslamp District, ECF Wealth is owned and operated by Weller with a number of virtual consultants on its team. He is also an active mentor for several men of color and serves as a volunteer to Feeding San Diego.