Brain Corp Sees Record Growth
Wednesday, February 24, 2021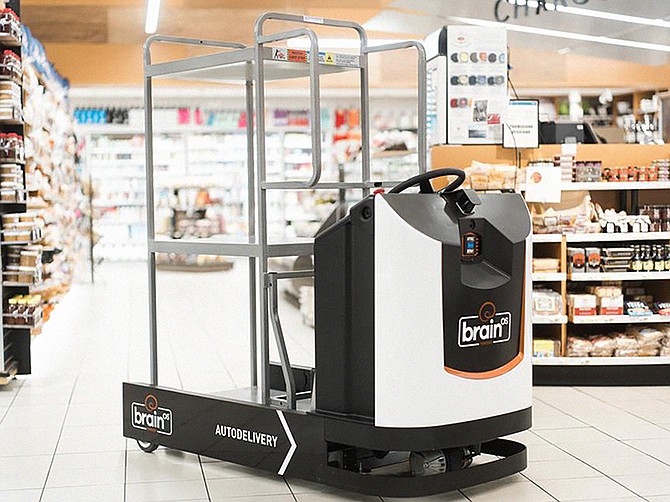 Brain Corp, a technology company specializing in the development of autonomous robotics, saw record growth in 2020 as global retailers demanded more autonomous robotic cleaning solutions. 
The Sorrento Valley-based company has deployed more than 14,500 robots, becoming the largest robotic fleet operating in public indoor spaces. It also achieved more than 300% increase in robotic deployments last year.
Eugene Izhikevich, CEO of Brain Corp said the increase is largely driven by demand for cleaning automation to help better manage "a constant state of clean" caused by the ongoing health crisis.
"Given the rapid adoption rates and strong value proposition, robotic solutions are clearly becoming the new commercial cleaning standard," said Izhikevich.
"In today's changing world, businesses are rethinking their automation strategies, bringing robots out from behind locked areas and into public spaces where they bring a new level of process automation," he added.
Helping Big Box Retailers
Today, Brain Corp powered autonomous floor cleaners have been deployed in retailers, malls and airports nationwide, including about half of all Walmart stores. Additional customers include Kroger's, Mall of America and the San Diego International Airport.
Its software, BrainOS enables customers to leverage the power of robotics to offload repetitive, labor-intensive tasks related to floor care, in-store inventory delivery, and shelf-scanning — freeing employees' time to focus on higher-value responsibilities.
Brain Corp is the market leader, among its peers in the autonomous robotics industry. More than half of the company's revenue comes from "big box" retailers.
Customers that license its BrainOS software to power their own industrial equipment include Tennant Co., Minuteman International, Dane Technologies, and UniCarriers Americas, among others. 
Rian Whitto, senior analyst at ABI Research said he believes the infrastructure is now in place for companies such as Brain Corp to remain a player in the retail vertical. 
"We have a burgeoning ecosystem of robotics developers, lots of partnerships with original equipment manufacturers like Tennant and Nilfisk, and sufficient buy-in from grocers and retailers like Kroger, Schnucks, and Walmart," said Whitto. "All the infrastructure is in place for automated commercial cleaning to be mainstreamed in retail."
Exploring New Industries
Izhikevich said the bulk of Brain Corp's current work is focused on exploring new industries and applications for BrainOS, with the goal of making it a "robotics industry-standard technology."
One area includes delivery robots, which aims to bring merchandise from storage in the back of the store to shelves for restocking, as well as scan shelves to monitor inventory levels and identify misplaced products.
The company also intends to partner with robotics startups to expand BrainOS into "applications beyond floorcare," specifically in the areas of materials handling and store operations.
In October last year, Walmart expanded its partnership with Brain Corp. In particular, Walmart-owned Sam's Club will add 372 robot floor scrubbers to the hundreds of units it has already deployed, covering every location in its U.S. chain.
Looking Forward
Headquartered in Sorrento Valley, it employs roughly 340 local staffers. Brain Corp was also recognized as one of San Diego's Best Places to Work in 2020. Brain Corp raised a $36 million Series D round last year, bringing its total raised to $161 million.
The company declined to share annual revenue or projections. Although, the company expects to become a newly profitable company, said Izhikevich, adding that he foresees the demand for cleaning automation will persist well beyond 2021.
 "Our goal is to become cash flow positive this year," said Izhikevich. "The big picture goal is to power robots everywhere. I want to be able to look out my window and see multiple robots performing landscaping, picking up trash, and a variety of different tasks," he added.
Since inception, Brain Corp has accumulated millions of hours of autonomous operation. More notably, autonomous robots using its software have covered more than 53 billion square feet of space and counting.

"The total commercial real estate in New York City is around 1 billion, we're essentially cleaning the entire New York City 50 times over. In the US, the total commercial real estate is around 97 billion, our robots have cleaned more than half of that. Soon, our robots will have covered the entire U.S. commercial real estate," said Izhikevich.
"It's a major accomplishment and I am really proud of my team," he added.