Taking Multitasking to Another Level
Tuesday, February 23, 2021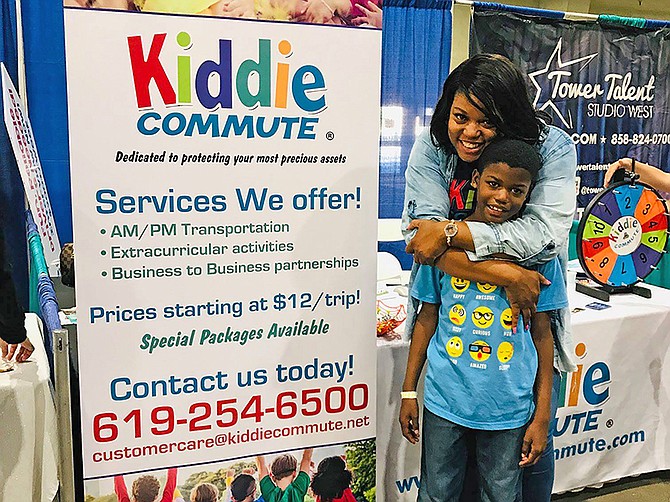 Shan Cureton takes multitasking to another level. She founded her first venture, Kiddie Commute — a ridesharing service just for kids — while completing her undergraduate degree at San Diego State University and also parenting three children.
Now, she is using her experience in the start-up space to help other minority founders like herself, secure investments and thrive through her newest venture, Three Indigo.
Cureton and co-founder Nita Saint-Hilaire launched the firm in 2020, with an angel-investor model where they provide the staff, financial expertise and mentoring on how to scale a founder's idea.
"We're a consulting firm but we take consulting to the next level," Cureton said. "We work with diverse founders who may not have the capital to really go out for investors, but they have, not only the idea but they also have the traction. So, we help them with everything that they would need to highlight their investable voice."
Cureton explained that this is the culmination of her work as it builds on her experience of spending months trying to fundraise for Kiddie Commute, sitting in on investor meetings and ultimately ending up with nothing. Some investors told her they needed to scale while others said she had too much traction and all of this made Cureton wish she had someone to offer her guidance.
"I needed someone to say, 'hey I believe in you and this is what I'm gonna do for you,'" Cureton explained. "And so we have companies right now, that have partnered with us, that we're helping to scale, and it's very rewarding. It really is."
Kiddie Commute
In a similar way, Cureton's company Kiddie Commute was born out of a need in the market that was not being addressed by other services such as Uber and Lyft, once she realized they could not legally transport minors alone.
She needed a way to get her kids to school, while she took her afternoon capstone class at SDSU, and when nothing turned up, she set out to create "the new school bus." The company launched in 2017 and was the only-Black woman owned ride-sharing company in the state and at its peak, the company had about 50 drivers throughout San Diego.
Unfortunately, the business hit a bump in the road in 2019 with the passing of California Assembly Bill 5 or AB 5, that was essentially designed to regulate companies that hire and pay gig workers, such as ride share drivers.
"We were bootstrapping so every dollar that we were bringing into the company went into payroll because we wanted to make sure that our drivers were paid...a decent wage not just a livable one," Cureton said. The rest of the revenue went to licensing, insurance, regulations and eventually Cureton turned to a fundraising round that was unsuccessful.
Then the coronavirus pandemic hit and halted all of the activities that kids needed to be transported to, so it put the business on a hiatus. However, a hiatus that led to the formation of Three Indigo.
"In a sense, even though it's not Kiddie Commute, I still feel as if you know I have a, not only a little bit of ownership but I'm also helping diverse founders really excel and take their company to the next step," Cureton said.
What's Next
While Kiddie Commute's operations are at a red light due to the pandemic, Cureton is keeping busy with her kids, working from home on Three Indigo, teaching remotely as a professor at Southwestern College and serving as Program Director for Stella Labs — a nonprofit that serves female entrepreneurs.
For Cureton, she found one of the biggest takeaways from Kiddie Commute was less about the actual transportation for the parents, but the peace of mind they had from the company's five-step vetting process of drivers. Currently, she is in the early stages of developing a technology on the blockchain based off of Kiddie Commute's thorough background process that can be applied to other sectors in the future.