Merging the World of Electronics and Living Molecules
Tuesday, February 23, 2021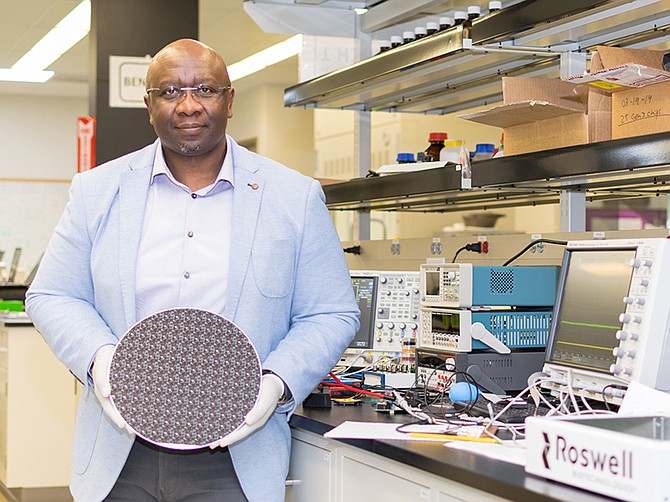 For many years, it was Paul Mola's job to think 10-20 years into the future of what kind of technology would be necessary to solve problems. Now, he applies this forward-thinking approach and more than 20 years of experience to his own company, Roswell Biotechnologies.
Roswell Biotechnologies is merging the world of electronics and living molecules to disrupt bio-sensing technologies to solve society's most enduring challenges in human health, food security, energy, defense and technology.
As Roswell's founder and CEO, Mola said his choice to start his own company derived out of his years of experience in the industry working in various roles such as portfolio strategy. In this position, he had to examine the technology each company had available, identify deficiencies, then think 10-20 years out for what kind of technology they will need in the future.
"I felt that I was always having to, to look beyond where most of the others were working," Mola said. "They tend to be very focused on what they're doing in the moment...But nonetheless, because of that, then sometimes it's just easy to say you know what, I'm just gonna go out and do it because I see the gap. Maybe the team doesn't see it or the company doesn't see it. And I see a path to close it."
Mola did exactly that in 2014 when he founded Roswell as a means to close the gap in the technology used for diagnostic tests and bio-sequencing.
"Some of these are really high-risk ventures because you know some ideas and concepts are not proven, but yet, if you see the pieces come together, and you have the faith and belief that you can actually pull it off, then sometimes you have to step away," Mola said. "And in the sort of framework of a start-up then execute the project and that's what essentially we are doing at Roswell."
Roswell's Molecular Electronics chip integrates single molecules into nano-circuits deployed on standard semiconductor chip technology to create a universal biosensor for applications in precision medicine, molecular diagnostics, drug discovery and DNA sequencing.
He decided to name the company "Roswell" because of the "out-of-this-world" nature of its technology and as a nod to the myth of the Roswell New Mexico UFO crash. Mola, who was originally born in Kenya, said he has always been intrigued by innovation and he came to the United States following his postgraduate research.
"I've always had a passion for technology development and innovation, and I think naturally, I gravitated towards biotech...my mom was a biology teacher, and I was very interested in physics," Mola said.
Mola holds a master's degree in biotechnology and a business degree from the University of San Diego, which he said informed his lens for how his work can have an impact beyond scientific research.
"Having a business sense, with the technology background, this gave me the ability to think of innovation not as a research project, but more from what is the impact on humanity and on mankind," Mola said. "But also, you need to, obviously, pay the piper and think about then how is this also a commercially viable technology. So, I think those are the things that my education has helped, in addition to just the curiosity I've had along the way."
Another element of Mola's futuristic strategy is his commitment to nurture the next generation of scientists by making sure he does his part to help local students interested in the field, especially underrepresented students in science such as women and "people of color".