Jack of All Trades
Monday, February 22, 2021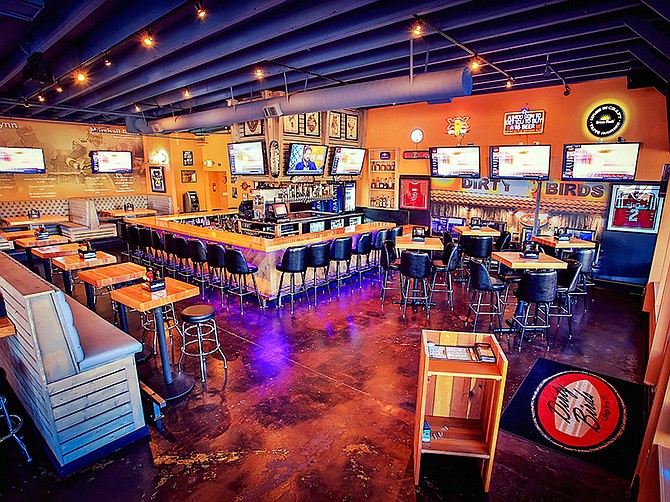 Marshall Faulk may be most famously known for his 13-year National Football League career.
The former running back played in two Super Bowls and won Super Bowl XXXIV in 2000 while contracted with the St. Louis Rams (before joining that team, he played with the Indianapolis Colts from 1994-1998). That same year, he was named the most valuable player in the NFL; in 2011, he was inducted into the Pro Football Hall of Fame; and, in 2017, into the College Football Hall of Fame.
But these days, Faulk, originally from New Orleans, Louisiana, and a graduate of San Diego State University, is highly-touted for his entrepreneurial spirit. And, in many ways, inspiring and impacting the local Black community through his efforts and achievements.
Since the early 1990s, the 47-year-old father of five has invested in or launched numerous business ventures.
This includes becoming a Popeye's Louisiana Kitchen franchisee; owning part of Alliance Management Group, a full-service sports agency; becoming part owner of San Diego-based Dirty Birds Bar and Grill restaurants; founding MAD Energy, a sustainable energy company; becoming an owner of Midwest Elevators; and working with World Financial Group Insurance Agency, a company that sells investment, insurance and various other financial products.
Knack for Business
Faulk always knew he had a knack for business. It was early into adulthood that he determined he would go the entrepreneurial route once his football career came to an end.
"I came to San Diego on a football scholarship – obviously things went great football-wise – and got into the whole business world," he said. "I was fascinated with business. In fact, I studied business and I wanted to know as much as I could about how businesses operate, what makes them successful and how to be a successful businessman. Along with playing ball, what I wanted to do was continue school and learn as much as I could about business."
His first foray into entrepreneurship was back in 1996, when he had a conversation with his then agent, Rocky Arceneaux, about launching the sports agency together. Today, the company boasts athlete clients such as Ezekiel Elliot, running back with the Dallas Cowboys, Adoree Jackson, cornerback with the Tennessee Titans, and Clyde Helaire-Edwards, running back with the Kansas City Chiefs, among a long list of others.
In 1998, Faulk got into the elevator and escalator business, which contracts in St. Louis, Kansas City and Columbus, Ohio. In 1999, he made his first investment in the Popeye's franchise, owning roughly 26 locations to date. Dirty Birds was founded in 2008 by restaurateurs Jon Ollis and Adam Jacoby in Pacific Beach. Faulk jumped in as an investor shortly after and now owns five locations throughout San Diego with the founding partners.
It was around that time he got involved with World Financial Group, first as a client learning about financial literacy. After researching and educating himself about the business model, he decided to open his own office in University City.
Now, he has the fastest growing agency within the company, he said.
Akbar Gbajabiamila, former NFL player and host of NBC's "American Ninja Warrior", said Faulk inspired his sports career as well as his post-football career.
"Marshall Faulk was very instrumental for me, especially in my post-football career," he said. "It wasn't until I got to the NFL Network that I started to get to know Marshall Faulk the person – how thoughtful and how intelligent he is, how cerebral he is and how he approaches everything from football to business. He was the first person in my broadcast career that really taught me how to assess value. When it was time to renegotiate my contract, Marshall took the time to walk me through the process. It was gracious of him to point me in the right direction, saying, 'this is where you should be'. He's a sharp business mind in terms of critical thinking and critical analysis."
Building an Empire
While Faulk builds his empire, he continues to make it a point to teach those around him any chance he gets.
At Alliance Management Group, for example, he says he often takes his recruits under his wings to teach them the ins and outs of professional football and give them insight into possibilities off the field. It isn't a service the company sells, he says, adding that the agency focuses on contract negotiations, brand development and marketing. He simply does it because he wants his successors to have the knowledge he had to seek out to become financially literate and financially abundant at their fingertips.
For him, it isn't just about bringing up his own children, but helping raise the next generation of black leaders along the way.
"It was always something I wanted to do, it was just about finding out how exactly to do it," he said about his mentorship. "Talking my sports agent into going on his own and later starting Alliance with him has been my way to really mentor kids and not look at them the way a lot of agents look at them: just players or someone to make money off of. For me, it is about helping them establish their careers on and off the field and helping them figure out how they want to carry themselves and where they want to go, whether that is in business or in life."