Honoring Black Entrepreneurs
Sunday, February 21, 2021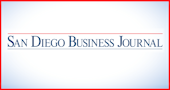 As a culmination to its month-long celebration of Black-owned businesses, on Thursday, Feb. 25, the San Diego Business Journal will honor and celebrate Black entrepreneurs with its inaugural Black Businesses Matter awards and panel event presented in association with the Central San Diego Black Chamber of Commerce.
In addition to honoring Black entrepreneurs, the event will feature a diversity, equity and inclusion panel discussion moderated by Eugene "Mitch" Mitchell, vice president – state government affairs and external affairs, Sempra Energy Utilities. The panel members will include: Mike Fasulo, president and COO, Sony Electronics; Mark Stuart, president and CEO, The San Diego Foundation; Caroline Winn, CEO, SDGandE; and Doug Winter, CEO and co-founder, Seismic.
Along with the business awards, Floyd and Sandra Robinson will also be honored with a Lifetime Achievement Award for their community leadership and longtime work to make San Diego a better place.
The ten additional businesses featured this week present just a sample of what local Black-owned businesses have accomplished. Although the special section ends this week, we still want to hear about Black-owned businesses. If you are a Black-business owner who has a story to tell, please contact us at businessnews@sdbj.com. Throughout 2021, the San Diego Business Journal is committed to continuing to showcase minority -owned businesses.
Ron Suel founded StreetCar Merchants Chicken Bar in 2013 and his food offerings have become an important part of the Black community in San Diego. His story may be found on page 14.
Wil Reynolds didn't plan on starting a company what he really wanted to be was a teacher. Today he has done both. His story may be found on page 15.
After his football career, Marshall Faulk has been highly touted for his entrepreneurial spirit investing or launching numerous businesses. See his story on page 16.
Shan Cureton has taken multitasking to another level. Her story may be found on page 17.
Quentin Anderson purchased the domain BlackOwned.com 20 years ago. This past November his vision came to life. His story may be found on page 17.
Thinking about what the world of the future will be is part of Paul Mola's job. His story may be found on page 18.
SIP Wine & Beer owner Cassandra Schaeg continues to inspire, empower and educate the community about wine and beer companies during COVID-19. Her story may be found on page 18.
Lawrence Weller formed his financial planning and investment management company in 2017 to be a consultant more than a salesperson. His story may be found on page 19.
Kurling Robinson founded Fokus Mentoring to serve entrepreneurs. He brings more than 25 years of experience in software development. His story may be found on page 19.
Les Spellman, the founder of Spellman Performance, has emerged as one of America's elite speed performance coaches. His story begins on page 20.