Improving Lives with Innovation
Thursday, February 18, 2021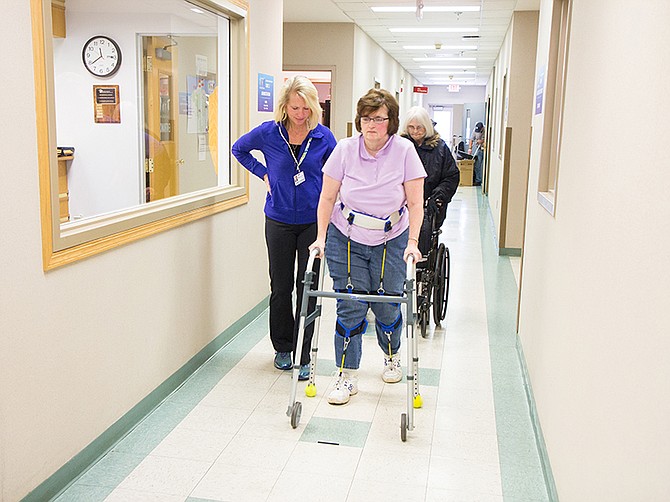 What started as a training device to help athletes run faster, transformed into a mission to promote recovery, increase mobility and improve the quality of life for people with movement limitations.
Founder and CEO, Benga Adeeko parlayed his passion for track and field into his company NewGait that creates a physical therapy and rehab device for people who have difficulty walking.
Originally from San Antonio, Texas Adeeko graduated with a degree in mechanical engineering and ran Division 1 track and field. He came to San Diego to work for UTC Aerospace Systems in Chula Vista, but he wasn't finding as much fulfillment from his job as he had hoped.
"So I really then thought back to my passions in life," Adeeko said. "What do I love to do? And engineering was one of them, but track and field was another."
He said he ran track and field almost his entire life, so to get back to it he started coaching a youth track club in Carmel Valley.
It was while he was coaching track and field athletes that Adeeko started asking himself another question — how can I help my runners improve their stride and run faster? This curiosity led him to conceptualize the SpeedMaker, a wearable resistance band device, now called the NewGait, in 2014.
The original SpeedMaker device was developed as a series of elastic bands around the waist and thighs that focused on muscle groups such as the hamstrings and glutes to power a runner's extensions, Adeeko explained. The current NewGait device works similarly as a series of straps along the hips, shoulders, legs and elastic bands that provide resistance on patient's muscle groups as they walk.
Adeeko said he thought back to when he was his strongest as a runner and what muscles needed to be strengthened. Engineering the prototypes then just became a series of asking a small question and solving that problem, Adeeko said.
In the early stages of the device, Adeeko connected with NewGait co-founder, Jordan Strofaci who contributed his experience in biomechanics and exercise physiology to developing the product.
The turning point for NewGait was in 2016 when a physical therapist in Michigan named Kim Spranger used the device to rehabilitate her patient, Emily Devooght, who had a devastating spinal cord injury. Doctors told Devooght that she would never run again, but after working with Spranger and NewGait's device, Adeeko said not only did she recover, she ended up running a 5k race.
From there, Adeeko and Strofaci officially started the company in 2016 with a focus on the therapeutic and rehabilitation potential of the NewGait device.
"We said, let's put the SpeekMaker on the side for right now. And let's really focus in on this device because it's truly impacting people's lives," Adeeko said.
Next Step
Back in December, NewGait won first place in a seed-pitch competition that was sponsored by the Central San Diego Black Chamber of Commerce. The local chapter of the National Society of Black Engineers hosted the event in an effort to foster more equity and inclusion for Black professionals and entrepreneurs in the life science industry.
Not only did NewGait win a $2,000 cash prize, Adeeko said the competition provided him valuable connections to industry leaders who judged the pitches and it encouraged him to get involved in groups such as the National Society of Black Engineers.
"[The judges] gave us advice on, you know, how could I have made my pitch better? What did you like about it? What did you not? Because even though I did win, I understand that we can always be better. We are always working to refine it and make it better," Adeeko said.
Building off of this experience, the next step for NewGait is growing its footprint in the local community.
"Well, one of the big things that we're really looking for are partnerships, and physical therapists within the local community," Adeeko said. "We have a smaller footprint here in San Diego than we do in Michigan, where my clinical team is located. Just by nature, we've been able to grow quicker there."
Adeeko said moving forward NewGait is actively seeking out health care professionals, rehab specialists and physical therapists in San Diego who "want to make an impact and a change on their clients lives" through their product.