15 Rules to Live By
Wednesday, February 17, 2021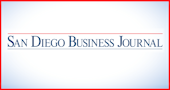 Allen F. Maxwell recalls telling the people around him in rural Georgia that he was going to be a businessman someday.
It was the 1970s. He had already spent the first 11 years of his life in a part of Philadelphia known as the Badlands. Then came his first case of culture shock. He moved with his family from the city to a small town in the South, where he found himself working in fields full of peas, beans, cucumbers, watermelons and tobacco.
Were those field workers able to see 50 years into the future, they would have seen Maxwell getting out of a sleek Italian sedan at a glass building at the east end of Mission Valley. True to his word, Maxwell is a businessman, running his own company.
A San Diego Story
The years between then and now turned out to be a San Diego story. Maxwell joined the U.S. Navy to get away from the Georgia farms. That introduced him to the military, and more importantly to one of his first mentors. It also introduced him to his first duty station on the destroyer tender USS Dixie at the naval base on 32nd Street.
Twenty-two years later, Maxwell retired as a Chief Warrant Officer 3. He went to work as a civilian in government procurement offices, including SPAWAR — the information technology command now known as NAVWAR. He also started dabbling in business, running a mailbox store franchise in La Jolla.
There came a point when Maxwell realized he could be a defense contractor himself: "As a GS-15 [government employee], I was watching people get these million dollar checks," he said.
He founded his defense contracting company, Omni2Max Inc., in 2009. It specializes in cybersecurity, engineering, information technology, logistics, program management and system engineering.
$8M in Revenue
The most recent year has been particularly good. Sales grew from $5.5 million in 2019 to $8 million in 2020. Maxwell attributes that growth, in part, to bringing in new ideas, strategies and people — including a strong business development executive — and having a stellar track record with government clients.
Omni2Max has about 100 employees around the country, in Philadelphia, Washington, D.C., Virginia, Georgia, Alabama, Florida, Texas and Nevada, in addition to California.
The business was also selected by the World Trade Center San Diego for the MetroConnect program, which introduces participants to international markets. Omni2Max has been in talks to do business in the Philippines, India and Mexico, Maxwell said.
Like many of his peers, Maxwell has been able to gain certifications for his company that give it a preference in obtaining contracts. Among other things, Omni2Max is a minority owned business and a service-disabled veteran owned business.
It takes part in the U.S. Small Business Administration's 8(a) program, which offers companies sole-source contracts up to $4 million without competition. It's nice, but it's no free ride, Maxwell said. "It's a good club in your bag, but you have to work it." One has to market hard, he said, and pay attention to quality of service.
Recognizing the System
Maxwell recently wrote a book about his life called "The System Is Unforgiving: Play by the Rules and Win." In it, he lays out 15 rules for dealing with life.
For example, Rule of the System No. 4 is "Never become pompous or arrogant. Adversity is not the enemy; stay humble."
While the book is a memoir, it is also a study in sociology and anthropology. Maxwell said he has always had an analytical mind. As he recounts his life, he discusses the systems that certain communities and cultures develop, the benefits of working within a system, and the penalties of going against it.
"There's a system in everything we do," he said. A person has to understand it and work with it.
The farms in Georgia had an ingenious way of paying farm hands a small wage, then taking most of the wage back by charging for meals and snacks. Maxwell kept his wages by bringing his own food and snacks, saying he was keeping to a special diet, and not giving the impression that he was too good to comply. "I used the system against itself in a nonthreatening way," he wrote.
The Importance of Mentorship
There was also a tale of an early mentor from his first ship in San Diego, a senior enlisted sailor named Albert McCoy, who clued him in on how to negotiate life in the Navy, and life in general. Maxwell wrote that he hated McCoy at first, and then came to realize him as an angel.
Surprisingly, there is one thing the system is not: The system isn't personal.
"Nothing's personal in life," Maxwell said. "If you make things personal, I think you've gone down the wrong path."