Floyd and Sandra Robinson to Be Honored
Sunday, February 14, 2021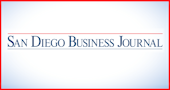 Floyd and Sandra Robinson will be honored for lifetime achievement on Feb. 25 at the first Black Businesses Matter Awards and Panel virtual event held by the San Diego Business Journal in association with the Central San Diego Black Chamber of Commerce.
The Robinsons have demonstrated what it means to be great community leaders always working to make San Diego a better place. Floyd Robinson began his career in baseball playing for the then minor league San Diego Padres and later became a star athlete in Major League Baseball playing for the Chicago White Sox. His baseball career was cut short in 1967 with a knee injury. While active, he never played on a team with a losing record.
He and his wife are both life and business partners well-known for developing Golden Age Garden. This 76-unit apartment complex provides low-income housing for senior community members helping to create a more affordable and inclusive environment.
In 2007, they established the nonprofit Floyd Robinson Foundation and in 2009, Floyd Robinson was inducted by the San Diego Hall of Champions into the Breitbard Hall of Fame honoring San Diego's finest athletes both on and off the field.
While Floyd Robinson moved around the nation playing baseball, he always found his way back to San Diego. Growing up in Logan Heights, he attended San Diego High School where he excelled at both baseball and football. His wife Sandra is a Logan High School graduate. As a San Diego business leader, he has been involved in construction and real estate and at one time owned a local grocery store. He and his wife Sandra have been married for more than 50 years.
Again the San Diego Business Journal features 10 businesses in this week's Black Entrepreneur Special Section in celebration of Black History Month. The section begins on page 11.
The Altipiano Vineyard and Winery, headquartered in Escondido, is the only Black female-owned winery in Southern California, as well as minority owned and veteran owned, and these recognitions co-owner and wine maker Denise Clarke does not take for granted. Her story may be found on page 11.
Joshlyn Turner and her food truck business – The Write Juice – work to help parts of San Diego have healthy alternatives to liquor and tobacco stores. Her story begins on page 12.
Sister Cities Project founder Shawn McClondon is pushing for diversity and racial equity through his newly founded nonprofit that aims to provide a platform for Black women entrepreneurs. His story begins on page 16.
As a child, Rudolph A. Johnson, III participated in the Neighborhood House Association's Head Start Program. Today he is president and CEO of the organization. His story begins on page 13.
Ensunet Technology Group, founder and CEO Paul Robinson's drive for entrepreneurship was instilled early on. His story may be found on page 14.
NewGait Founder Benga Adeeko's training device to help athletes run faster has transformed into a mission to promote recovery and increase mobilitiy for people with movement limitations. His story may be found on page 18.
Meri Birhane's chance at a new life in the U.S. helped her become deeply entrenched in tech and business culture at the intersection of sales and technology with her company Meri Consulting Services. Her story may be found on page 18.
Tamara Craver leads Reality Changers, a nonprofit organization that brings opportunity to students who might get overlooked in school. Her story may be found on page 13.
Allen F. Maxwell recalls telling people as a child in the 1970s he was going to be a businessman someday. Today he is CEO of Omni2Max, Inc. See his story on page 16.
Bringing together minority entrepreneurs and leveraging the power of marketing to build their professional network is what Roosevelt William's Young Black and N' Business is all about. His story may be found on page 15.