Telling Stories That Matter
Sunday, February 7, 2021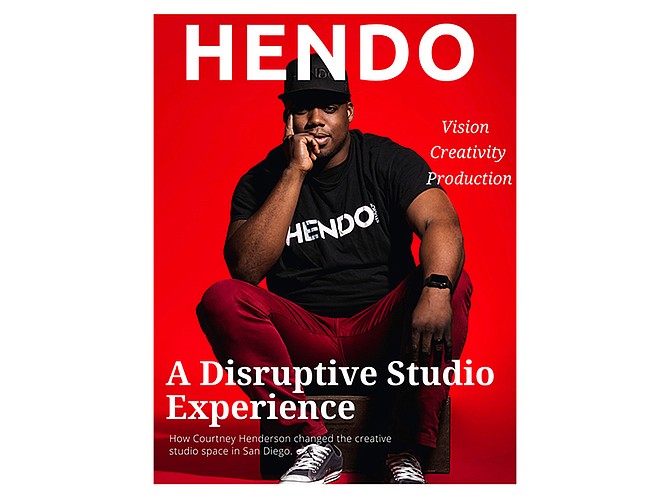 Black SD Magazine LLC, a quarterly publication that highlights Black culture and lifestyle, was founded in 2020.
It is also the first African American magazine published in San Diego County, according to owner and publisher Michael Cox. Just last year, to commemorate the historical fete, Cox received a proclamation from former Mayor Kevin Faulconer and Councilmember Chris Ward for being the first Black printed magazine in S.D., he said.
Now, Black SD Magazine, with Cox at the helm, is on a mission to provide representation for the local Black community by telling the stories that matter the most.
Black Culture
"It actually started in 2019," said Cox, originally from Los Angeles and with a background in public relations. "I had a lot of friends in different groups talking about Black representation in San Diego and expressing their concern. I thought, 'we need a vehicle that kind of celebrates and talks about Black culture in different ways.' So, I just started reaching out to people about sharing their stories, about topics like the afro-Latina experience and the black LGBTQ experience. 'There is a way we can do this and also provide resources through partnerships and such,' I thought. Now, I love the fact that I can use this tool to encourage, motivate, educate and empower others."
For Cox, it is important Black SD Magazine doesn't only highlight African American stories from San Diego County, but more so explore topics that are important to the local Black community in general. As the sole contributor of the publication, he's interviewed the likes of artist Adina Howard about female empowerment, reality star Amara la Negra about colorism and Michael Keith from R&B group 112, among others. He's also written about lifestyle trends that he believes are of interest to African Americans, like the top hiking trails in San Diego and top murals to visit in the city.
So far through presales, Black SD Magazine prints and sells roughly 500 publications a quarter for $20/piece, said Cox.
Headquartered in East Village, Black SD Magazine has a team of six and is completely self-funded, said Cox, with each new print edition paid for through sales from the previous quarter. Part of the business model is to not include ads in the magazine, he said, just a full 64 pages of editorial. With this storytelling approach in mind, Cox doesn't put the Black SD Magazine name or logo on the front cover, he said. Instead, his front-page subject and respective company is what readers first see, said Cox, for a more personalized experience.
Johnnie Anthony Perry, Cox's husband and co-owner and director of veteran affairs at Black SD Magazine as well as a chief in the United States Navy, said he couldn't think of a better time for an African American-focused publication to drop in San Diego.
"San Diego has a lot to offer in black culture, businesses and things that interest our community," he said, adding that while focused on the Black community, the publication is all-inclusive. "I always had people ask, 'where can I get great food or where are the Black-owned businesses?' I tell them there are many Black-owned businesses here. So, we decided to highlight them with Black SD Magazine. During this COVID time, most people are home (but) they still want to know what's going on in the city. It seems like the best time to get this started."
Future Growth
To continue to grow its reach, Black SD Magazine promotes via social media and a newsletter as well as through partnerships with the likes of San Diego Regional Economic Development Corporation and the San Diego Tourism Authority.
In the future, Cox said he hopes to increase quarterly presales from 500 to even 5,000 through partnerships with local businesses and subscriptions. He also expects to expand The Catalyst Black Academy, a recently registered nonprofit to advance the African American community and businesses through programming and mentorship, hosted by Black SD Magazine.
Additionally, Cox plans to create Black SD Magazine renditions in other cities starting in 2022, including his hometown of Los Angeles, Houston, Texas, Atlanta, Georgia and Jacksonville, Florida.