THRIVING IN I.T.
Wednesday, February 3, 2021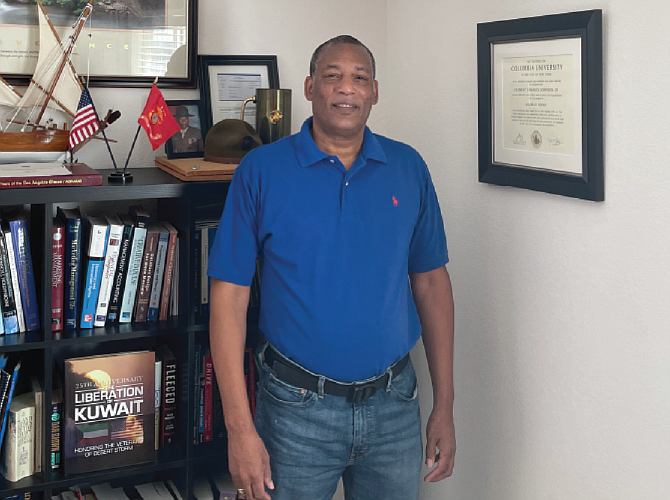 Clement Johnson got some welcome news about his future recently.
His company, Carlsbad-based ClemTech LLC, does business with the U.S. government, providing information technology. In one sense, Johnson's $1.7 million business is like a lot of other companies, including firms that are much bigger and nationally known.
Johnson, however, has an ace in the hole. The U.S. government has a goal of awarding at least 5% of all federal contracting dollars to small, disadvantaged businesses.
ClemTech — and other companies like it — are able to receive such set-aside business by participating in a U.S. Small Business Administration program for businesses owned by socially and economically disadvantaged individuals. The initiative is called the 8(a) Business Development Program.
The news that Johnson got was that the government had extended his 8(a) certification. He will be able to use that status until at least 2025.
According to the SBA, the government limits competition for certain contracts under the 8(a) program. Businesses certified as 8(a) businesses are able to compete for set-aside and sole-source contracts. The government also provides resources for participating businesses, such as financial education and opportunities to join forces with other businesses.
The 8(a) program is "a definite advantage," Johnson said.
ClemTech is also certified as a Service Disabled Veteran Owned Small Business, which provides certain advantages of its own.
From Marine to Federal Contractor
ClemTech is a knowledge management and information management business. Johnson founded it in 2013 after a career in the U.S. Marine Corps and subsequent work with several defense contractors.
The Carlsbad-based business deals in enterprise computing and networks, including cloud computing. It had $1.7 million in revenue in 2019 and has five employees (two in San Diego County and three in Northern California).
Clients have included the Marine Corps Systems Command, NASA, the Department of Homeland Security, Naval Surface Warfare Center Philadelphia and the Bureau of Reclamation.
ClemTech's main products integrate Microsoft with Cisco networking technology, the company's proprietary hardware and the ClemNet data center. The business operates in data centers in Nevada, Illinois and New Jersey.
An ability to solve technical issues makes ClemTech a success, Johnson said. The company's key value proposition, he said, is integrating knowledge management as well as information management into its solutions architecture.
Johnson does not want ClemNet to be merely a value added reseller, or just a company that passes on personnel to the government. While the business does both, it also does so with an eye toward making the client's organization better.
Johnson also insists that his employees speak the same language as the business or military leaders they meet, and not make the discussion any more complicated than it has to be.
He Might Have Been a Sailor
Johnson got on a familiar basis with computers during his 24-year career in the United States Marine Corps.
His teen years had been hard. He was born in Compton and his family situation put him on the streets at age 15. Johnson traveled with family members and spent many nights in Los Angeles without a roof over his head.
He told a story of meeting a U.S. Navy recruiter and taking an aptitude test. He scored well. He scheduled a follow-up meeting, but the Navy recruiter never showed up. After waiting for four hours, a Marine Corps recruiter took notice of him.
"What? Are you still here," Johnson recalled the recruiter saying. "What are you waiting on? You know, we're the Marine Corps. We're the partner of the Navy. Would you like to see what we could do for you?"
Soon Johnson was standing on the yellow footprints at Marine Corps Recruit Depot in San Diego. It was a defining moment for him.
"I was so scared out of my wits, but I was happy to have three square meals a day, a place to sleep and something to do that could possibly better my life," Johnson said. "It was a relief."
Johnson did well in the Marines. In fact, he excelled. He served in Kuwait and Iraq. In all, he spent 24 years in the service. After retiring from the Marines as a master sergeant, Johnson worked for several defense contractors. That part of his life included a period at Marine Corps Central Command in Bahrain.
The information technology skills he picked up formed the foundation for a college degree. In 2017, Johnson received a master of science in information and knowledge strategy from Columbia University in New York City. He also holds a master of science in management and project management from Colorado Technical University.
Today, Johnson serves military and commercial clients, and pays it forward.
Potential business owners call his company all the time, interested in learning what the Small Business Administration can do for them.
"We're definitely open to help individuals get started in business," Johnson said.