Feeding San Diego Receives $25,000
Tuesday, February 2, 2021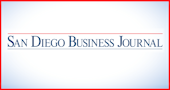 Feeding San Diego, the Sorrento Valley-based hunger-relief and food rescue organization, continues to do its part to feed San Diegans in need.
Thanks to a generous $25,000 donation from Wells Fargo, as part of its "Many Hearts, One Community" campaign, Feeding San Diego will continue to help put food on the table for those within the county that have fallen on hard times – whether as a result of COVID-19 or not. The donation is part of the bank's commitment to help provide 82 million meals across the country, according to the institution.
Most Challenging Year
"We are incredibly thankful to Wells Fargo for their partnership at the tail end of a most challenging year," said Ali Colbran, director of development of Feeding San Diego. "Partnerships like this are vital to enabling us to continue providing our services since the beginning of the pandemic."
Added Joe Mishriki, North County Inland region bank president for Wells Fargo: "Hunger is a year-round issue which is even more pronounced during the holidays. And this year, due to the pandemic, the need for food is unfortunately much greater than ever before. Wells Fargo is deeply committed to the communities we serve and we are glad to support Feeding San Diego's efforts to help provide even more meals to people in need during this time."
The $25,000 grant follows another recent donation to Feeding San Diego.
In October 2020, the nonprofit received $50,000 from the "Help Feed Families During the Crisis" fundraiser to continue to fight hunger in response to COVID-19. The grant funds, part of Albertsons Companies Foundation's "Neighbors Community Relief Initiative", supported meals for students in collaboration with local school districts.
In June of last year, Feeding San Diego received $120,000 from Calpine, a California-based energy generator and provider of energy services.
Maximizing Food Rescue
Established in 2007, Feeding San Diego is a non-profit on a mission to connect every person facing hunger with nutritious meals "by maximizing food rescue", according to the organization. Feeding San Diego provides more than 31.2 million meals every year to children, families, seniors, college students, military families and veterans. To do so, it partners with a network of 320 local charities, schools, faith communities, meal sites and food pantries. As a result, more than 92% of the food provided to the community is rescued, as per data provided by Feeding San Diego.