DIVERSIFYING TECH TALENT
Tuesday, February 2, 2021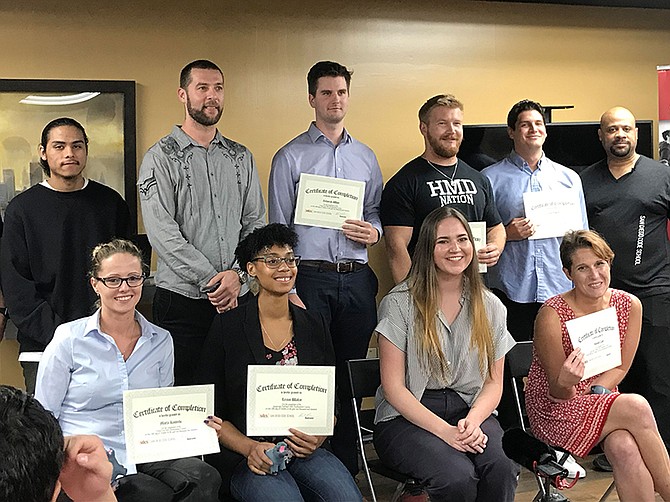 Mike Roberts, founder and chief apprenticeship officer at San Diego Code School, has a passion for helping underrepresented people break into the technology industry.
To support this mission, he launched a Black-owned code school in 2018, focused primarily on helping companies build high-performance engineering teams and bringing together individuals who are often overlooked during the job process.
Coding Bootcamp
During its first year of operation, it offered a 16-week bootcamp and low-cost alternative to earning a lengthy computer science degree similar to other coding schools in the region.
It taught students in-demand software development languages, honing in on the most essential skills to get a job in the current market.
Its curriculum offered learning about full-stack web development using JavaScript with popular front-end and back-end web technologies.
Finding early success, 92% of its students obtained employment within 6 months of completing the program.
For example, one of the school's first graduates was hired by RedHat, a multi-billion dollar software company, within three weeks of graduating.
Transitioning to Apprenticeships
When the pandemic hit, Roberts quickly pivoted the company as an apprenticeship-based software development program.
Roberts said it now helps identify talent for companies and serves as a key facilitator for junior and entry-level talent.
The Code School works with companies that provide a minimum 12 months of experience to its students to develop their talent using their platforms.
In particular, apprenticeships receive 2,000 hours employment with San Diego Code School, 14 weeks of classroom training, 38 weeks of hands-on experience as a member of a development team, Salaried employment opportunities with its clients, and on-going training and mentoring.
To date, it has partnered with several technology companies including ServiceNow, NewRocket, and Kizen to help more non-technical people land a career in coding. The company offers hourly wages for apprentices up to $20/hour.
"It's more important than ever to have code schools around to build up San Diego's tech talent, considering that tech giants are moving in. The markets will tighten up more and more, and senior engineers will get more valuable," said Roberts. "Post-COVID, We're going to see a rapid expansion of opportunities. We have to just focus on the fundamentals."
Helped More Than 100 Students
Prior to San Diego Code School, Robert held positions from software engineer to chief executive officer. Roberts previously worked at Origin, a locally known coding camp where he built out the company's curriculum as chief academic officer. Origin shutdown two years ago, leading him to create his own software school.
A full stack JavaScript practitioner with more than 30 years of experience coding, he has helped launch more than 100 student land high-paying careers at Apple, Walmart Labs, Sony, and Amazon Web Services, among others.
Roberts said the big picture goal for the company is to continue to help companies diversify its talent pipeline. Looking ahead, the company plans to serve more than 100 students this year, with San Diego continuing to be its primary hub.
It generates revenue through its employer model and plans to be funded by federal and state sources in the near future.
"People that are looking for a solution, it's super easy, just pick up the phone and I'm more than happy to help even if it's not our solution," said Roberts. "If you're looking to get more women or more diverse candidates, there are solutions out there. They just need to pick up the phone, we're here to help."