RF Industries Has $57M Year, Signs Deal to Buy Microlab
Thursday, December 30, 2021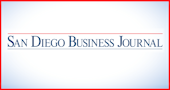 RF Industries Inc. (Nasdaq: RFIL), the electronic component maker based on Miramar Road, reported net income of $813,000 on net sales of $21.1 million during its fourth quarter, which ended Oct. 31.
Fourth quarter net sales increased 38% from the third quarter and 97% from the year-ago quarter.
For fiscal 2021, RF Industries reported net income of $6.2 million on net sales of $57.4 million. The business released the figures on Dec. 22.
The business makes radio frequency connectors, coaxial cables and related interconnect solutions.
It has been an eventful December for RF Industries. On Dec. 17, it announced that it agreed to buy the Microlab LLC radio frequency components business from New Jersey-based Wireless Telecom Group Inc. (NYSE: WTT) for $24.25 million cash. The deal still needs shareholder approval.
B. Riley Securities is serving as the financial adviser to RF Industries and DLA Piper is acting as legal adviser.
Robert Dawson, RF Industries' president and CEO, said the business is executing on its strategy to not only grow organically but through acquisitions.
RF Industries expects year-over-year revenue growth to be "north of 10%, which should put our total fiscal 2022 sales at greater than $63 million," Dawson said in a statement. The expected growth rate does not include any revenue from the Microlab acquisition.
RF Industries' most recent quarterly financial results showed improvement over 2020, with a 97% gain in quarterly net sales when compared the fourth quarter of fiscal 2020. In that quarter, the business reported net income of $159,000 on net sales of $10.7 million.
For the entirety of fiscal 2020, the business reported a net loss of $81,000 on net sales of $43 million.