COVID-19 Forces Last-Minute Cancellation of 2021 Holiday Bowl
Tuesday, December 28, 2021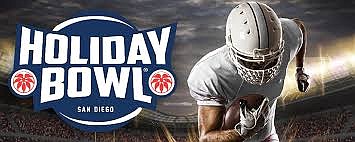 The 2021 San Diego County Credit Union Holiday Bowl, featuring a much-anticipated matchup between UCLA Bruins and North Carolina State Wolfpack, has been canceled due to COVID-19 concerns.  
Kickoff was scheduled for 5 p.m. Tuesday at Petco Park. But shortly after noon today, UCLA Football released a statement confirming that the team would be "unable to participate in tonight's" game due to "COVID-19 protocols." 
Multiple news sources reported the Bruins did not have enough healthy players to compete. 
On Monday night, Bruins coach Chip Kelly had said the team was trying its best to play despite the challenges presented by the virus. But UCLA athletic director Martin Jarmond confirmed Tuesday afternoon the team would not be able to compete. 
"We are extremely grateful to the Holiday Bowl, students, fans, sponsors and the people of San Diego for their support this week," Jarmond said.  "We are deeply disappointed for our young men in the football program that worked extremely hard for this opportunity. My heart goes out to them. The health and safety of our students will always be our North Star." 
North Carolina State's officials reacted Tuesday afternoon on Twitter, stating: "We were informed a short time ago that our opponent would be unable to play this evening. Heartbroken to not be able to compete one more time this season." 
The Holiday Bowl became the fifth bowl game this season to be canceled due to COVID-19. The Arizona Bowl, Fenway Bowl, Hawaii Bowl and Military Bowl have also been canceled.   
The 2020 Holiday Bowl was also cancelled due to COVID-19. 
Holiday Bowl officials are expected to release further information about the cancellation later today.