5 Predictions for 2022 and What They Mean for Your Business
Monday, December 20, 2021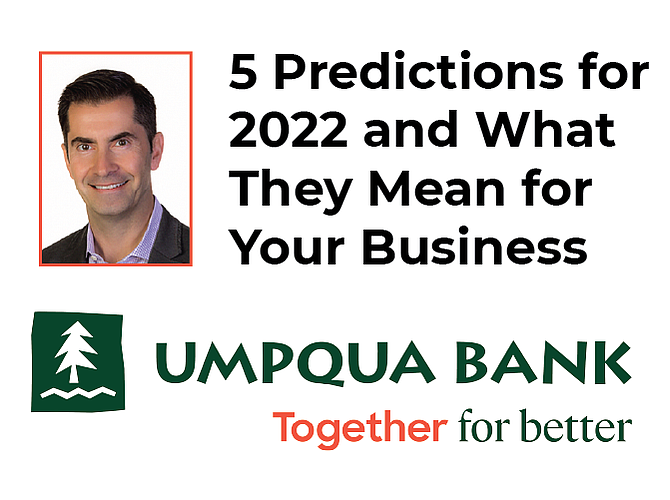 Provided by Umpqua Bank
 As we enter 2022, the economy hangs somewhere between tremendous growth potential and breakthrough recovery, and continued disruption from emerging COVID variants, high inflation, and supply chain and workforce pressures. Is your business ready to meet both challenges and opportunities with confidence?
   To help businesses like yours succeed in the year ahead, Umpqua canvassed outside economic experts for a recently released report that explores in-depth a range of issues critical to business decision-making. Our own banking leaders then weighed in on how small and mid-sized businesses can use this information to better position themselves for success.
   Below are five predictions for 2022, and what they mean for business: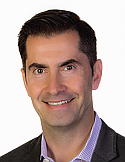 1. Surging demand tempered by continued disruption: Prepare for growth and be ready to adapt. 
Many consumers are flush with cash and ready to spend. Surging demand growth, especially in service industries, is very possible. The pace of growth, however, will be kept in check until people don't perceive the pandemic as an existential threat. Business must also contend with rising inflation and a tight labor market, as well as the inevitable surprises that will require agility and the ability to pivot.   "The economic landscape is changing quite rapidly because of significant volatility around inflation and the interest rate environment. This presents both opportunity and challenges," says Kris Ilkov, Umpqua's regional market director of middle market banking for the Southwest region. "Businesses that take advantage early on in hedging their interest rate risk and focusing on top line growth can strengthen their competitive position."

   2. An improving but unpredictable supply chain calls for financial flexibility.
Supply chain turmoil remains a lingering effect of the pandemic. Our experts see gradual improvement, but not full resolution over the course of 2022. Initially, the pandemic served as a catalyst to supply issues, forcing exporters to close factories overseas to slow the spread of infection. That created labor shortages in all industries, and the issue has had a ripple effect.
   "Despite inflationary pressures and the specter of rising interest rates, borrowing is still a good option for growth-minded businesses, but don't get overleveraged and compromise your ability to pivot strategically," says Richard Cabrera, head of middle market banking at Umpqua. "Carefully manage inventory at levels that leave you relatively confident it can be liquidated. Be sure to maintain a good balance between equity and debt in any assets you purchase."
Additionally, companies that prioritize a reliable supply chain can gain market share in 2022. Business leaders should ask where their supply chain is most vulnerable and how to solve for it. 
 3. Uncertainty, volatility will create opportunities for efficiency and growth. 
Looking into 2022, companies should continue to invest in automation and be ready to take advantage of market opportunities, whether it's buying another business, or purchasing real estate.
   "We're seeing more businesses automate and digitize basic functions in response to the talent shortage and to avoid gaps in productivity," says Kathryn Albright, head of global payments and deposits at Umpqua. "One smart way is by automating payments and accounts receivables processes. It's relatively simple and can yield significant savings."
   And any market pullbacks, in real estate for example, will create opportunities for companies with strong cash position and borrowing capacity. "Securing a line of credit ahead of potential market corrections will allow for quick action," adds Kent Grubaugh, head of private bank at Umpqua.
   On the M&A front, rising inflation and interest rates will position cash-rich firms with opportunities to quickly acquire competitors whose owners are retiring or less financially strong. 
 4. Major U.S. legislation will impact economic activity and opportunity. Know what the changes mean for your business.
The $1 trillion Infrastructure Investment and Jobs Act was signed into law in November, and provides funding for improving roads, bridges, ports, railroads, water safety, the power grid, broadband internet and more. The nearly $2 trillion "Build Back Better" bill is also working its way through Congress. These bills represent the biggest policy initiatives of the year, our experts agree. And they represent myriad possible opportunities and impacts for businesses.
   "There's a flurry of major legislation being passed or considered that could have significant implications for businesses and investors," Grubaugh says. "Moving into 2022, it will be important to understand how any changes to fiscal policy will impact your cashflow and financial plan." 
  5. Cyber-fraud will be a growing business threat. Take smart, simple steps to protect working capital. 
Businesses should plan for the inevitability of being targets of cyber-fraud. Shore up payment systems with dual controls and low-cost software that will help thwart criminals getting access to your business checking account. This is especially important given that the country is phasing in a faster payments system, shortening settlement times for victims.
   "The move to Real Time Payments will accelerate in 2022, which will improve business's cashflow but require enhanced cyber-security measures to protect working capital," Albright says. "It's critically important that companies address, examine and tighten their safeguards in the coming year."
   Read more about economic trends and predictions in "Headwinds & Opportunities: Economic Trends & Predictions for West Coast Businesses in 2022."
   https://www.umpquabank.com/2022-trends/